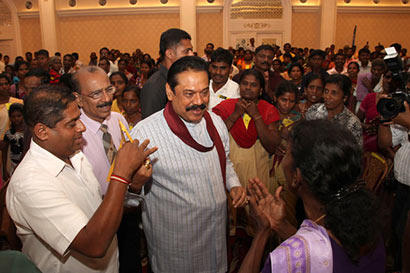 President Mahinda Rajapaksa requested the Tamil community in the Northern Province to keep faith in the motherland as the gold they owned that was returned to them yesterday (04th December).
He made this observation at a ceremony to handover jewellery which were deposited in LTTE banks to about 2,000 people from the North. They arrived in four special trains from Jaffna to attend the ceremony held at Temple Trees yesterday.
President Rajapaksa said he instructed the authorities to find the genuine owners of the jewellery and hand the items back to the owners as he believed that they be given to the owners since the jewellery was purchased with great difficulty. President Rajapaksa said the military operation was launched only to defeat terrorism and not against the Tamil people. The President said within four years after the eradication of terrorism, roads, schools, hospitals, railway lines, electricity, 96 Mahindodaya laboratories to schools etc were provided investing two or three fold funds to one province in the North as the government believed that all provinces should be equally developed.
He said the development programs are being carried out for the people of the North and their children.
President Rajapaksa said members of the security forces are friends of the people in the North.
He said if security forces personnel did not render their service the Northern and Eastern Provinces, services in the province would not have been developed so soon.
The President said members of demining groups that arrived in the country after the elimination of terrorism predicted it would take to 10 to 15 years to complete the demining program. "As it would take such a long period to commence the development programs in the North and East, the government decided to deploy security forces in the demining program. The program was completed within a short period.
Traditional Industries and Small Enterprise Development Minister Douglas Devananda Secretary Defence and Urban Development Mr. Gotabaya Rajapaksa Commander of the Army and large gathering of jewellery owners were present at the event.
(Ministry of Defence)