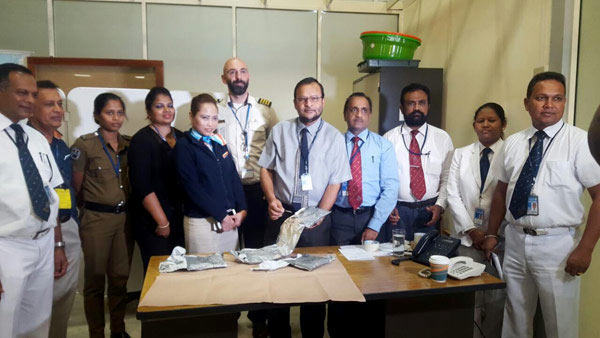 Customs officers detected 1.4 kilograms of heroin worth Rs.14 million left in a flight that arrived from Dubai this morning, Customs Media Spokesmen Dharmasena Kahandawa said.
He said the four packets of heroin was found packed inside a baggage left in the flight lavatory.
It was found during the checking done by the flight crew after passengers left the flight.
"The baggage was found inside the flight lavatory and the flight crew informed the customs officers that there is a suspicious baggage," Mr. Dharmasena said.
The customs suspect the heroin haul was brought by two Pakistani passengers who traveled in the same flight.
During the customs investigation they found the body hair on the back of the parcels as the heroin packets would have been earlier pasted in the body of whoever had brought it.
The flight FZ 555 arrived from Dubai this morning and it is still at the airport and is scheduled to leave after 1.00am.
The heroin packets were handed over to Police Narcotics Bureau for further investigations.
(Source: Daily Mirror – By Chaturanga Pradeep)