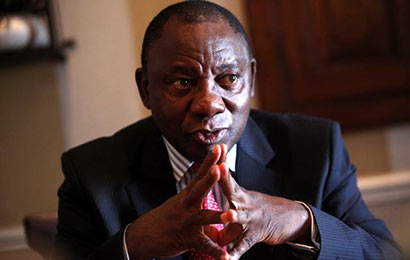 The Deputy President of South Africa, Cyril Ramaphosa, arrived in Sri Lanka today accompanied by a delegation of officials.
In a statement on Sunday, Ramaphosa said he would meet the Sri Lankan government, opposition parties and citizens during his visit to the country, which begins on Monday.
Ramaphosa has been appointed South African President Jacob Zuma's Special Envoy to help consolidate peace in Sri Lanka.
"What we are going to do there, we are going to listen to the Sri Lankans," he said.
"We will also try to help the Sri Lankans with the Truth and Reconciliation process, their own constitutional reform and make sure Sri Lanka does indeed become a stable country where they will enjoy human rights."
Ramaphosa is accompanied by South Africa's Deputy International Relations Minister Nomaindia Mfeketo.
Certain constituent parties of the ruling UPFA government had opposed the visit of South Africa's Special Envoy to Sri Lanka.
(Ada Derana)