Muslims the world over must introspect. There were no Americans, US State Department or CIA when the spread of Islam took place violently with the core mission to 'kill infidels" or non-believers. Islam via sword cut across entire continents and destroyed entire civilizations. These natives did not even have time to defend against the attacks. Undeniably, the acts were not in self-defense and the use of sword were inspired by the Quran. It is these factors that raise the existential fears of non-Muslims once more. The fear of history repeating itself prevails when 95% of violent conflicts around the world involve Muslims even if these conflicts are mischievously ignited by Western Christian countries. These conflicts are drawn using Koranic verses by numerous Islamic groups. That Islamic groups/Islamic leaders uses verses from the Koran to instill mayhem and draw Muslims into their fold raises the question of how far Islam is being manipulated by Islamic leaders as well as how far the West is manipulating this weakness. That these groups have no shortage of followers and these groups are heavily funded and are able to easily manipulate moderate Muslims makes any to wonder how many Muslims are able to go against the tide without submitting themselves to their religion and those who are leading them. What needs to be said is that Muslims leaders and the West are manipulating Islam's Koranic verses because there are verses that can be manipulated. Herein lies the core issue and root cause for the violence. With no central authority to control doctrine in Islam, a proliferation of bizarre religious edicts has resulted in chaos the world over.
Whatever context the verses are being argued on the claim that Islam is 'misunderstood' the fact is that there are verses that call for action against non-Muslims while ideological differences have enabled external factors to pit Muslims against Muslims.
There are over 100 verses that call Muslims to war with non-believers for the sake of Islamic rule. Some of these commands are graphic calling to chop off heads and fingers and kill non-believers wherever they are hiding. Quran (8:12) – "I will cast terror into the hearts of those who disbelieve. Therefore strike off their heads and strike off every fingertip of them"  There is nothing defensive about these calls – Muslims were not attacked by the Buddhist priests of Nalanda when they burnt to cinders the world's first Buddhist learning center and library. Muslims were not attacked when they travelled to Maldives and beheaded all Buddhist monks and destroyed all Buddhist artifacts in their belief of iconoclasm and declared Maldives as Islamic. Muslims were not attacked when they raised all Hindu architecture built by Hindu emperors in India.
Over a period of 800 years, millions of Hindus were slaughtered by Muslims as infidels or converted by the sword.There are scores of other examples as well to depict that there was no excuse for the manner Muslims drawing Islam killed unarmed civilians and completely destroyed ancient civilizations. Islam destroyed inventions of others but have shown little of creativity themselves.
What has to be said is that Muslims are drawn to violence not because they are bad people but the bad ideology that engulfs them and it is on the basis of these that non-Muslims are appealing for the scrutiny of madrassas where Islamic leaders are able to play mischief with the minds of Muslim children indoctrinating them by using verses of hatred. This is where non-Muslim governments have failed to realize and take action upon.
Let us take Quran (2:191-193) – "And kill them wherever you find them, and turn them out from where they have turned you out. And Al-Fitnah [disbelief] is worse than killing…but if they desist, then lo! Allah is forgiving and merciful.   And fight them until there is no more Fitnah [disbelief and worshipping of others along with Allah] and worship is for Allah alone.  But if they cease, let there be no transgression except against Az-Zalimun (the polytheists, and wrong-doers, etc.)" . There is nothing defensive in this passage too even in the historical context as Muslims had relocated to Medina. The verse is actually drawing Muslims to drive Meccans out of their own city – which they eventually did.
Madrassas and Muslim leaders can easily manipulate Muslims through Quran (2:216) – "Fighting is prescribed for you, and ye dislike it. But it is possible that ye dislike a thing which is good for you, and that ye love a thing which is bad for you. But Allah knoweth, and ye know not."  The verse establishes that violence can be virtuous (again negating the oft quoted excuse of self-defense).
Muslims who do not wish to be part of violence are also ridiculed. Quran (4:95) – "Not equal are those believers who sit (at home) and receive no hurt, and those who strive and fight in the cause of Allah with their goods and their persons. Allah hath granted a grade higher to those who strive and fight with their goods and persons than to those who sit (at home). Unto all (in Faith) Hath Allah promised good: But those who strive and fight Hath He distinguished above those who sit (at home) by a special reward,-" They are told that they are less worthy in Allah's eyes.
That non-believers had little choice but to convert to Islam and pay tax is revealed in Quran (9:5) – "So when the sacred months have passed away, then slay the idolaters wherever you find them, and take them captive and besiege them and lie in wait for them in every ambush, then if they repent and keep up prayer and pay the poor-rate, leave their way free to them." 
This clearly reveals the context of present day fears of non-Muslims knowing that when Muslims have power, if Muslim leaders use the violent verses of Koran they would not hesitate to convert or kill those who do not convert to Islam – peaceful Muslims have no say and no power to overrule this reality. With the number of Islamic factions rising, the number of Islamic groups calling for various jihads the looming dangers are great made worse by the West manipulating these leaders for their own agendas.
Quran (9:73) – "O Prophet! strive hard against the unbelievers and the hypocrites and be unyielding to them; and their abode is hell, and evil is the destination."  dehumanizes those who reject Islam and shows how Muslims can be easily led to show disregard for non-Muslims.
Armed Muslims groups are all described as Islamists because they are using Islamic verses. Every killing of non-Muslims follows instructions taken from the Koran (whatever context it is read in). Since 9/11 there are said to have been over 20,000 acts of deadly Islamic terrorism.
Elements that define hate speech include drawing a moral distinction between one's own identity group and those outside it. Devaluating and dehumanizing other groups drawing superiority of one's own. Advocating different standards of treatment clearly established in categorizing believers and non-believers and thus calling to violence against them. 61% of the Quran s about non-Muslims 98:6. Non-believers are even compared to vile animals. Verse 7:176 compares unbelievers to "panting dogs" with regard to their idiocy and worthlessness.  Verse 7:179 says they are like "cattle" only worse. It is these verses that enable Islamic groups to call for jihads against non-believers. We can't be faulted for claiming that Quran is about brotherhood of believers (49:10). We wonder what Minister Vasudeva Nanayakkara has to say about the verses that incite hate?
Nowhere in the Quran does it say that Allah loves non-believers of Muhammad. However there are over 400 verses giving the torment for people of other religions. Moreover, in today's context of affairs the 9 places in the Quran where believers are warned not to befriend non-Muslims can be easily seen in the manner Muslim children are not encouraged to even play with non-Muslims. O ye who believe! Take not for friends unbelievers rather than believers: Do ye wish to offer Allah an open proof against yourselves? (4:144).
In the present context of conflicts is it not time to question why Islam is at war with every major religion in the world when none of these religions are at war with each other? Is the reason not found in the Quran itself that shows non-Muslims to be inferior to Islam's adherents and do Islamic groups and their leaders not draw upon Allah's hatred for non-Muslims to wage these wars? The moderate Muslims have been totally powerless to control this aspect and have themselves become part and parcel not desiring to be outcasts of their religion.
Entering the present, we see how far Islam has become easy to manipulate by the West with Osama bin laden himself part of the West's agenda and continuing through various factions/associated entities of the Al Qaeda. The Muslim world itself is faced with the ISIS who are demolishing mosques and shrines and wonder who are responsible for making Muslims victims of their own faith.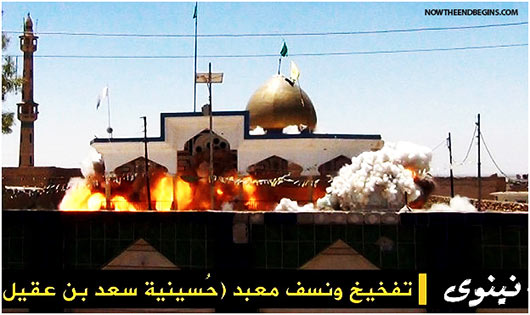 Islam today suffers from within as well as because of external factors. On the one hand there are bizarre fatwas issues upon Muslims. Rashan Hassan Khalil, former dean of Islamic law at al-Azhar University in Cairo, Egypt forbid married couples to be naked in 2006. Saudi Arabia's highest committee for Scientific research and Islamic law banned Pokmon video games and cards in 2001. Pakistan's largest Islamist umbrella group, Muttahida Majlis-e-Amal banned immunizing children from polio in 2007 claiming it sterilized Muslims. Parents of 24,000 children refused to give polio vaccine to their children as a result. In the year 2005, an Islamic Organization Jamiat-e-Ulama-e-Hind based in Kolkata issued a fatwa warning ominously that Indian tennis star Sania Mirza would be 'stopped from playing' if she did not start wearing 'proper clothes'.  Sheikh Muhammad Munajid, a former Saudi diplomat pronounced that Mickey Mouse was Satan's soldier.  The head of the "Moroccan Association for Jurisprudence Research" issued a fatwa allowing Muslim men to have sex with their just-deceased wives. The pretext of the ruling is based on nothing in Islam prohibits sex with corpses.  Egypt, Sheikh Amr Sotouhi, head of the Islamic Preaching Committee at al-Azhar, issued a fatwa prohibiting fathers from marrying their daughters to members of the formerly ruling National Democratic Party owing to their "corruption."
It is not hard to imagine how non-prevalent issues have suddenly emerged giving Muslims a sense of grievance against non-Muslims for not accepting these new culture changes into non-Muslim majority societies. These factors have also become a means to create disharmony by encouraging non-Muslims to react against incursions.
We can also imagine the mischief Western envoys are upto. On the one hand they would be encouraging the very elements that they know raises reactions by non-Muslims because these elements are perfect for the Western superiority to prevail.
As examples we can take how hijab/nikab have been encouraged on the one hand while also shown as non-integrators and non-co-existence elements. We have seen how halal has become a mere commercial element for Muslims who have a choice to even eat haram items given the condition they are in. We also see how far incursions are encouraged through Western-partnered Islamic leaders/groups and even politicians for they become perfect ingredients to push other agendas even inside countries of the West too.
Thus, even Britain is home to Islamic scare stories. The French had been wiser. Before announcing the ban on the face veil its survey estimated that not even 0.1% of Muslims wore the face veil. The French also showed how more Muslims were without the nikab than those wearing it. The French also highlighted the security concerns over ID and testifying in court, drivers license, as well as driving.
Essentially, anyone reading the Koran deserves to be told why these verses exist. It is because they exist and are uncontrolled Muslim groups are using these verses to create mayhem and the mayhem is funded by the West for their own corporate geopolitical agendas:
"And slay them wherever ye catch them.." (2:191)
"..But if they turn away, seize them and slay them wherever ye find them; and (in any case) take no friends or helpers from their ranks." (4:89).
Slay the unbelievers wherever you find them(2:191)
Make war on the infidels living in your neighboorhood (9:123)
When opportunity arises, kill the infidels wherever you catch them (9:5)
Kill the Jews and the Christians if they do not convert to Islam or refuse to pay Jizya tax (

9:29

)
Any religion other than Islam is not acceptable (3:85)
The Jews and the Christians are perverts; fight them (

9:30

)
Maim and crucify the infidels if they criticise Islam. (

5:33

)
The infidels are unclean; do not let them into a mosque (

9:28

)
Punish the unbelievers with garments of fire, hooked iron rods, boiling water; melt their skin and bellies
(

22:19

)
Do not hanker for peace with the infidels; behead them when you catch them (47:4)
The unbelievers are stupid; urge the Muslims to fight them (8:65)
Muslims must not take the infidels as friends (

3:28

)
Terrorise and behead those who believe in scriptures other than the Qur'an (

8:12

)
Muslims must muster all weapons to terrorise the infidels (8:60)
Sri Lanka's President recently declared those who condemn other religions bring disgrace to their own. The examples of the Quran are not to condemn Islam but to showcase that because these verses exist, they are open to interpretations by Islamic groups that are not controlled and end up destroying their own as well as destroying the harmony around the world.
It is no better a time than now to relook at these verses and for Muslim scholars to make a statement on the verses directly attributed against non-Muslims (non-believers) and the calls to destroy or convert them.
– by Shenali D Waduge