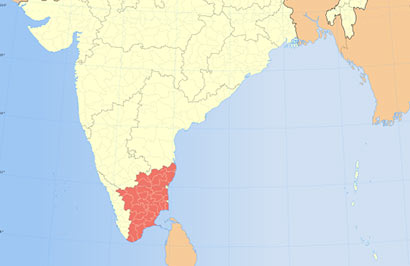 – Submitted by Walter Jayawardhana –
Colombo, Apr 9: A Buddhist nationalist group today staged a protest here for halting screening of Kollywood movies in Sri Lanka. Members of Ravana Balaya gathered outside the office of the cinema regulator Public Performance Board (PPB) and theatres to press for a ban on Tamil movies coming from South India.
"We want to see the end of Tamil Nadu movies into our country. Rajinikanth, Kamal Haasan and Sarath Kumar movies must never be shown here again", Ven Saddhatissa of the Ravana Balaya said.
However, the PPB Chairman Gamini Sumanasekera said they were powerless in the matter. "It is a decision of the National Film Corporation and the government", Sumanasekera said. The Ravana Balaya protest was a response to last week's protest action in Chennai on the Sri Lankan Tamils issue.
The leading South Indian movie industry figures took part in the protest much to the consternation of their Sri Lankan fans. Virtually endorsing the Tamil Nadu government's stand on the Sri Lankan Tamils issue, the South Indian Artists Association (SIAA) said India should take action against the island nation for its war crimes.
Meanwhile, the Sri Lankan movie stars have vowed to stage a 'prayer of determination' on Friday to make their Tamil Nadu counterparts "see the truth as regards Sri Lanka". "We will invite them to visit Sri Lanka and see for themselves the peaceful situation for all communities", Malini Fonseka, a 1970s female heartthrob who is now a ruling party Member of Parliament said.
PTI