Deyata Kirula 2010- 'Sri Lanka's vision for tomorrow'
Posted by Editor on February 6, 2010 - 5:10 am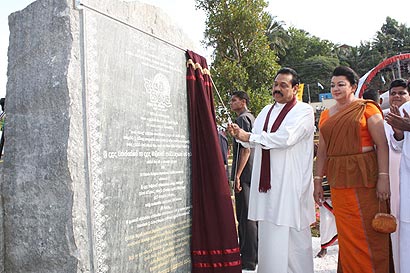 The 'Dayata Kirula- 2010' exhibition, organized for the forth consecutive time under the patronage of H.E President Mahinda Rajapaksa commenced yesterday (Feb 04), at the Pallekele Gamudawa Grounds, Kandy. On the previous occasions the exhibition was held in Colombo at BMICH under tight security with military engaged in an intense humanitarian operation to liberated Tamil hostages from the LTTE terrorist outfit.
The exhibition today bears great significance as the country is reunited under one flag with flourishing peace and reconciliation also with enormous opportunities for sustainable development and better living for all Sri Lankans, a Ministerial official said speaking with our correspondent at the exhibition.
The exhibition would express the nation's self-esteem regarding its proud heritage, present challenges and projected development, Finance & State Revenue Minister and Deputy Minister of Finance & Planning Ranjith Siyambalapitiya said with media yesterday( Feb 04). "It is far above the exhibitions and events we experienced in the past," he said.
"The country is entering a new era as it strives for rapid economic growth and this year's exhibition will help spur development by opening new opportunities for potential investors", the Minister further said.
State, private, and international sectors will be manning over 1,000 stalls at the exhibition. Supported by the National Lotteries Board and Sri Lanka Telecom Mobitel, the Deyata Kirula-2010 exhibition also hosts 15 Asian Countries at the event.
The police along with the security forces have taken every possible step to ensure security during the 'Deyata Kirula Exhibition'.
The exhibition will be opened to the public from 9 a.m. to 12 p.m. until February 10. But admission will close at 5.30 p.m.
Latest Headlines in Sri Lanka