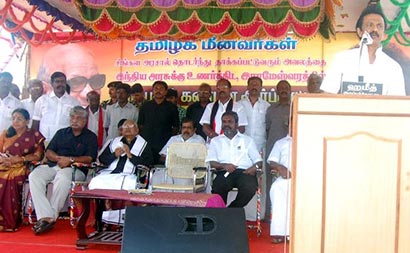 Submitted by Walter Jayawardhana
The Dravida Munnetra Kazhagam has threatened to intensify its agitation if a lasting solution was not found to the repeated attacks on Tamil Nadu fishermen by the Sri Lankan Navy.
"In the next phase of the agitation we should be prepared to sacrifice our lives. Our leader (M. Karunanidhi) is ready to show us the way and let us wait for his guidance," said M.K. Stalin, DMK treasurer. He was addressing a protest demonstration, organised under the auspices of the Tamil Eelam Supporters Organisation (TESO) in Rameswaram on Monday.
Lamenting that the attacks on fishermen continued unabated, Mr. Stalin said the party MPs drew the attention of the Centre and the Prime Minister every time there was an attack. The Centre also responded satisfactorily by taking up the issue with the Sri Lankan government and deputing its envoys to prevail upon the island nation to stop the attacks on Indian fishermen.
Mr. Stalin said during 1991-2011, there had been 167 attacks against the fishermen, in which 85 were killed and 180 injured. During 2006-2011, the Sri Lankan Navy had arrested 746 fishermen and confiscated 146 boats. It had later released 741 fishermen and 131 boats, he said.
The TESO, at its recent conference in Chennai, had adopted a resolution, pointing out that the fishermen were attacked mercilessly whenever they went for fishing near Katchatheevu and India should either retrieve Katchatheevu or establish its Naval base in Dhanushkodi or Mandapam to put an end to the issue, he said.
The TESO had organised protest demonstrations in Rameswaram and proposed to stage a protest in Nagapattinam tomorrow. "So far, we have been patiently expressing our protest and you should all gear up for the next round of agitation and prepare to sacrifice your lives," he said.
Former Union Minister Subbulakshmi Jagadeesan, Viduthalai Chiruthaigal Katchi leader Thol. Thirumavalavan and Dravidar Kazhagam president K. Veeramani were among those who participated. (Source: The Hindu)