Dust allowance for sanitary labourers
Posted by Editor on December 27, 2016 - 8:51 am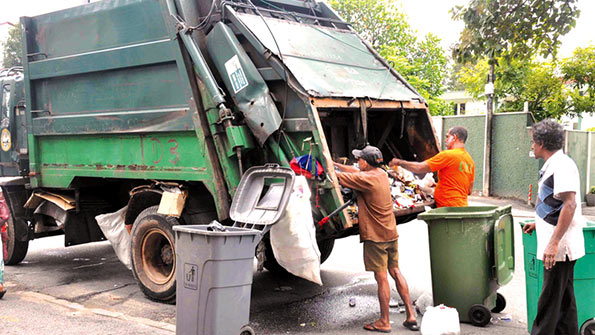 Provincial Councils and Local Government Minister Faiszer Musthapha directed Municipal Commissioners to offer a dust allowance for sanitary labourers.
The minister made this direction at the progress review meeting of the garbage segregation programme at the ministry auditorium.
Municipal Councils initiated the collection of segregated waste from November 1 on the initiative of Minister Musthapha.
The minister studied the progress of segregation of the waste programme by discussing with the public and sanitary labourers of several municipalities and observed the issues and difficulties faced by the labourers.
Responding to their requests, Minister Musthapha decided to offer the dust allowance for them.
The minister also said attention must be paid to sanitary labourers as they have to work with waste which carries germs. He added that their social status should also be uplifted.
The minister said labourers should undergo a medical check-up once in three months. He emphasised that jackets, gloves and boots should be worn by the sanitary labourers when collecting garbage. He directed the municipal commissioners to avail those necessities.
(Source: Daily News)
Latest Headlines in Sri Lanka