Face both victory and defeat equally to make life a success says President Rajapaksa
Posted by Editor on November 7, 2011 - 9:22 am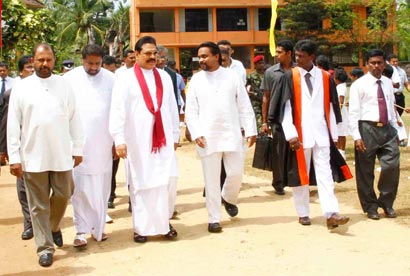 Onlanka News – By Janaka Alahapperuma
(Pix by: Nalin Hewapathirana)
President Mahinda Rajapaksa said the government is determined to mould a sporting child generation, who face and embrace both victory as well as defeat equally to make life a success. Students should determine to make their lives triumphant by enduring both wins and losses. He made these remarks at the ceremony held in Kalutara Tissa Central College to mark its 75th Anniversary on 05 November.
The President urged the students to develop the ability to face both victory and defeat equally and advised them to give due consideration to sports, while pursuing their studies. Students should focus their attention to sports and extracurricular activities as well as to education. But sports that would groom the children to bear victories as well as defeats and build a good mentality he further added.
President Rajapaksa assured a grant of 50 million rupees in view of future development of Tissa Central College under the Government's vision of providing opportunities for education to all schools with all facilities.
Addressing the gathering the President also expressed his views on the upcoming 2018 Commonwealth Games. He said country's young generation will be made ready for the commonwealth sports festival hoped to be held in Sri Lanka in 2018. Winning the bid is not enough, adding that various propaganda is being carried out by the international community against Sri Lanka.
At the occasion a new three-storied building, Udaya Keerthi Perera Memorial Hall in the school premises constructed under the 'Tissa Punarudaya' programme was also declared open by President Mahinda Rajapaksa. Maithripala Liyanarachchci, the Principal presented a memento to mark the occasion to the President while a Grade 8 student Hansani Nimreka presented a picture painted by her. A commemorative stamp and a first day cover were issued to mark the 75th Anniversary celebrations of the school by the Director of Philatelic Division Channa de Silva.
Maha Sangha, Minister Wimal Weerawansa, Deputy Ministers Rohitha Abeygunawardena, and Nirmala Kothalawela, government officials, students, past pupils and parents were among the large gathering present at this function.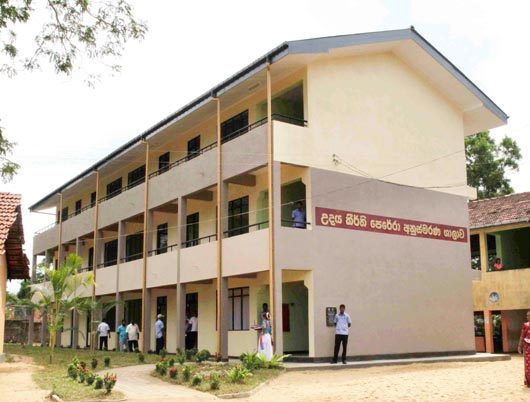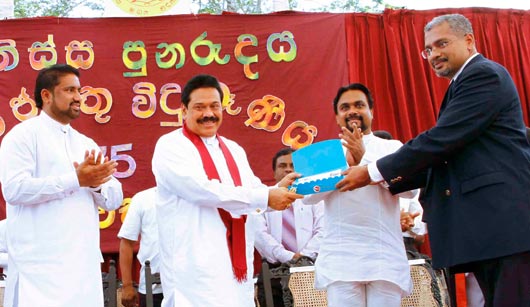 Latest Headlines in Sri Lanka