Farmers Pension Scheme will be launched today
Posted by Editor on January 28, 2014 - 12:03 pm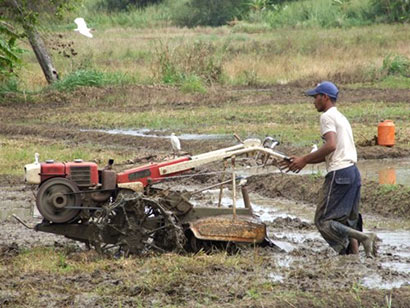 Farmers Pension Scheme that would reward the farmers in their old age for the sweat and energy shed by to feed the people of this country will be launched today by President Mahinda Rajapaksa.
1,500 farmer representatives from all districts will attend the relevant function which will be held at the Hambantota International Conference Hall.
The farmers pension scheme will be implemented in accordance with the proposal made by the President in the new budget.
The government has established a fund for this purpose and it will contribute Rs. 1,000 million each year for this fund.
The Deputy Secretary of the Treasury Dr. B.M.S. Batagoda said that contributions from the farmers and a part of the profit from the farmers pension scheme will also be contributed to this fund.
He said that the farmers will get benefited from the new scheme more than the old scheme. Farmers who are over 60 years of age will get one thousand rupees monthly and farmers who are over 78 years of age will get a pension of five thousand rupees each month.
(Source: Government News Portal)
Latest Headlines in Sri Lanka