Following President Mahinda Rajapaksa's invitation: Indian PM due here on State visit
Posted by Editor on June 12, 2011 - 10:00 am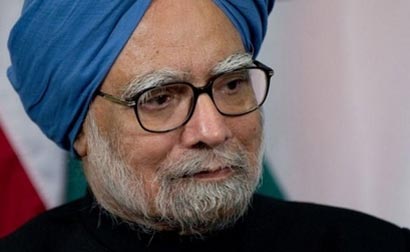 Indian Prime Minister Dr. Manmohan Singh is to make an official State visit to Sri Lanka on an invitation by Sri Lankan President Mahinda Rajapaksa.
This high profile visit on bilateral level will be the first one by an Indian Head of State after Prime Minister Rajiv Gandhi's visit 24 years ago in 1987.
The visiting Indian delegation headed by National Security Advisor Shivshankar Menon handed over a letter of acceptance by the Indian Prime Minister yesterday morning when they paid a courtesy call on President Mahinda Rajapaksa at President's House, Presidential Media Director General Bandula Jayasekera said.
Indian High Commission spokesperson Birendra Yadav when contacted by the Sunday Observer also confirmed the report.
A Sri Lankan Foreign Ministry spokesperson said the invitation did not specify a timeframe. Hence the modalities of the visit will be discussed through diplomatic channels within the coming days. Prime Minister Rajiv Gandhi was here in July 1987 to sign the Indo-Sri Lanka Peace Accord. Prime Minister Manmohan Singh visited Colombo, the host city, as the SAARC Chair in August 2008.
The Indian delegation which arrived in the country on Friday morning comprised Foreign Secretary Nirupama Rao, National Security Advisor Shivshankar Menon and Defence Secretary Pradeep Kumar.
They held discussions at a joint meeting with the Defence Secretary Gotabhaya Rajapaksa and President's Secretary Lalith Weeratunga yesterday before calling upon External Affairs Minister Prof. G.L. Peiris.
The Sri Lankan High Commissioner in India Prasad Kariyawasam was also associated in the meetings.
They discussed a range of issues concerning both countries and the Sri Lankan side apprised the Indian delegation of the steps taken to foster peace and reconciliation and arrive at a political solution following the defeat of terrorism two years ago.
Commenting on a political solution, Menon told the Indian media that the goal was a political arrangement under which all communities in Sri Lanka will be comfortable.
"We naturally feel (that) quicker they themselves come to a political arrangement within which all communities are comfortable, works for all of them, the better. We will do whatever we can to help," Menon said.
Menon said Tamil Nadu chief minister J. Jayalalitha's recent remarks did not figure in their talks.
"The Sri Lankan government has said that they will directly deal with the Centre," Menon said playing down the Jayalalitha factor.
Source: Sunday Observer
Latest Headlines in Sri Lanka