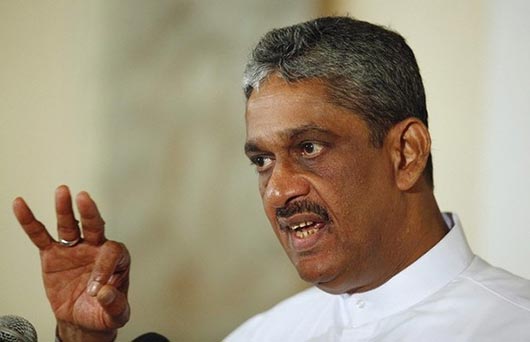 Responding to declaration made by the Attorney General's Department that there was no substantial evidence to prosecute Kumaran Pathmanathan alias KP, the former chief procurer for the Liberation Tigers of Tamil Eelam (LTTE) and considered its international face, former Army Commander, Field Marshal Sarath Fonseka said there was enough evidence to commit him for trial.
Fonseka who called the AG's statement "treacherous" said: "I am prepared to share information with the Attorney General on this. There are photographs of KP in LTTE uniform. Even a junior soldier in the Army knows KP was responsible for raising funds and that he facilitated purchasing and transportation of arms and ammunition on behalf of the LTTE."
Claiming that he as the Army Commander had presided over intelligence briefings on KP alone, Fonseka said, "KP remains one of the most wanted terrorists and there is an arrest warrant by Interpol against him. He is a terrorist of international repute but was in the good books of the Rajapaksas."
He accused the former Rajapaksa regime of safeguarding KP, who had struck deals with the former administration. "KP owned ships and had at his disposal, huge amounts of LTTE money," Fonseka said.
Minister of Justice Wijayadasa Rajapakshe said the Attorney General had not reached any conclusion, although he has mentioned, at this stage, there was no evidence against KP to prosecute him.
"It is common knowledge that the KP was in the LTTE. But the AG has to follow due process and find evidence for prosecution. As far as India goes, the matter is under discussion and a final decision will be there soon. "
Rajapakshe also said there were other difficulties in gathering evidence on the fund raising component. "We will have to ask from the former regime. They have the information, if any, not us. The former regime had all the dealings with KP and they know the details."
Meanwhile, Minister John Amaratunga said the government will be compelled to hand over Kumaran Pathmanathan to India. "He is a wanted man in India over former Indian Prime Minister Rajiv Gandhi's assassination," Amaratunga said. In April 2014, the Rajapaksa government banned 16 Tamil Diaspora organizations including the LTTE together with 424 individuals, but the person identified as the successor to the slain LTTE Leader Velupillai Prabhakaran – Kumaran Pathmanathan alias Selvarasa Pathmanathan – was excluded from the list.
(Sunday Observer)