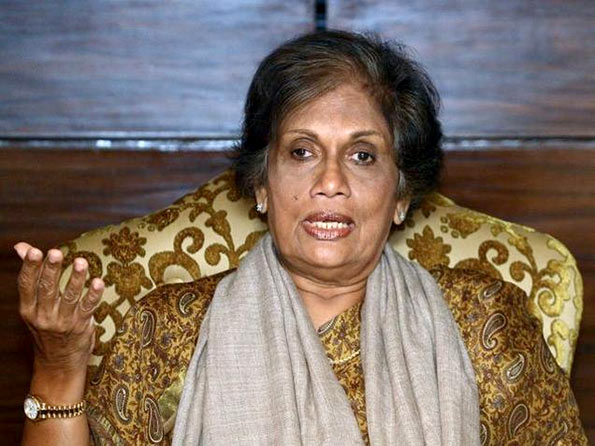 Former Sri Lankan president Chandrika Bandarnaike Kumaratunga is in India for her first visit since the surprise defeat of her successor Mahinda Rajapaksa, a man who was once a close associate and now a political enemy whose regime she was instrumental in overturning. She spoke for the first time to a group of Indian journalists including The Hindu's Suhasini Haidar about how the opposition and Mr. Rajapaksa's own party members were united. Excerpts from interaction with former President Kumaratunga on September 5th,2015:
Qn: You are in India to attend the Hindu-Buddhist conclave in Bodh Gaya on behalf of Sri Lanka…what is the importance of this conclave that PM Modi also attended?
Chandrika Kumaratunga: I think its very important for Sri Lanka because the protagonists are from these two communities. So if we can find common ground between the two religions as opposed to diversities it would be useful. Of course the Tamil question never involved the religious aspect.
Qn: This is also your first official visit to India since President Sirisena's government was sworn in, and you have been appointed the envoy for reconciliation. How do you see India-Sri Lanka ties at present?
Chandrika Kumaratunga: Historically all Sri Lankan governments have had excellent relations with India. Except one government before Rajapaksa had various problems, which exacerbated the war in Sri Lanka. And the Rajapaksa regime did not have easy relations with India. But for our (Sirisena) government it wasn't difficult to pick up from where my Presidency left off (in 2005). We saw the bad consequences of Rajapaksa's policies towards India.
Qn: Did India have any role in Mr. Rajapaksa's electoral defeat? In an interview to The Hindu he had blamed Indian intelligency agency R&AW and Western countries of a conspiracy against him.
Chandrika Kumaratunga:That's not true. No outside force had anything to do with. Except that right through Rajapaksa's regime, international community lamented his policies, and asked me why I wasn't returning to politics. But apart from that they had nothing to do with it. We can manage our own affairs….Because he expected to win the election, he was in shock when he lost, and tried to look for scapegoats.
Qn: You had a pivotal role in bringing together the opposition in defeating him. How did that happen?
Chandrika Kumaratunga: It just happened. Because everyone in the country starting from about two years into President Rajapaksa's regime began to turn away from him. Even people from the opposition who normally would not have accepted my leadership, civil society in a big way came and asked me to return to politics. I said no, because I was very clear I wouldn't return to electoral politics, not to hold positions. After the end of the war when President Rajapaksa won the elections in 2010 I thought he would improve. But that wasn't the case, he was getting worse. You cant force the hand of history. So we couldn't force a coup, it is the people who must want a change. So when people started protesting, civil society, fishermen, university professors, it was evident people wanted the change. People called me and said, I had brought the President in, I had to do something about him . I did feel I had done enough, my family had done enough, but I was ready to help. The real problem was that the opposition didn't have someone who could win the election against Rajapaksa. So I had to start looking around, under great difficulties. Mr. Rajapaksa had forbidden every single person of our party the SLFP from talking to me. MPs used to run when they saw me. Otherwise they would get a call from the President. Amidst such circumstances, I identified Maithripala Sirisena. There weren't many more to identify as it was to difficult to find anyone in the SLFP who wasn't known to be corrupt or a murderer (laughs). It was very difficult to find someone from my party at a leadership level like that. I had worked with Maithripala and I knew he fitted the bill, atleast somewhat. Nobody's perfect. Now I had to send messages through people to him. Sometimes I used messengers. The same messenger couldn't go often, because it would be reported. It was a police state.
Qn: Is there any truth to the story India provided communication devices, DRDO made satellite phones?
Chandrika Kumaratunga: No..completely false. We were using Viber. And the government didn't know how to tap Viber. Apparently it is difficult for any intelligence agency anywhere to tap into Viber, although some can identify out who is calling whom. But Sri Lanka didn't have that technology, otherwise we would have all been dead. I couldn't afford a big office, I could only hire 2 people as Rajapaksa had closed down my office. But we managed somehow, and I can say that the main reason we were successful is that civil society really rose up. They were allies along with the UNP. Ranil Wickremshinghe wasn't afraid to meet. I realised that we would need an alliance, because the opposition in our country had been weakened. So I had a hand in bringing them all together, and that was it. Eventually the common enemy brought us together.
Qn: Given that, how much were you worried about Mr. Rajapaksa's return to power in the recent elections that were won by the UNP? Especially given the strain within the party over the SLFP party ticket given by President Sirisena to Mr. Rajapaksa…
Chandrika Kumaratunga: Yes there was a strain between all of us, not only between the President and the PM. But that has since been resolved. And President Sirisena has redeemed himself during the campaign by his actions and statements during the campaign. I know that he was determined not to let the "baddies" come back. But the President was trying to keep the party together, and was misled by the two secretaries of the party who deceived him because they were for Rajapaksa. Finally he did sack them, but we felt he should have sacked them much earlier.
(The Hindu)