Four Sri Lankans arrested for stealing 4.6 Million Indian rupees from car
Posted by Editor on January 12, 2023 - 10:01 am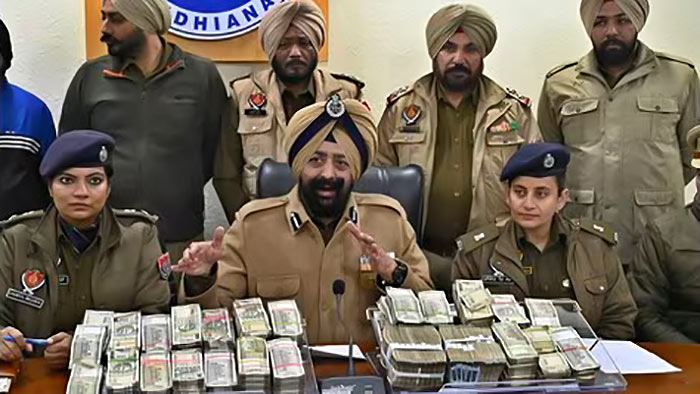 Four Sri Lankans have been arrested in India for stealing large sums of money from a car.
India Police recovered more than 4.6 million (₹46.50 lakh) Indian rupees (INR) from the possession of the accused, who speak Tamil.
They said that the accused live in temporary shanties in Delhi and other different states and have conducted multiple thefts in the past.
Commissioner of Police Mandeep Singh Sidhu said that the police scanned the CCTV footage and traced the thieves who operate as a gang named 'Thak Thak', which is based in Madangir Colony in South Delhi.
He said that to nab the miscreants, police teams led by joint commissioner police Soumya Mishra, ADCP(investigation) Rupinder Kaur Sra and ACP Ramandeep Bhullar had conducted raids at Ferozepur's Dana Mandi and other locations.
He said that the thieves, who would be produced in the court on Thursday, were not expecting the amount to be so huge and that they avoided using mobile phones and other technical gadgets to escape the police.
One of the accused, identified as Murgan and a resident of Madurai in Tamil Nadu, was arrested from Delhi and ₹40 lakh was recovered from his possession.
The other three, who have been identified as Prakash and Suresh and residents of Madangir colony in Uttar Pradesh and another one also identified Suresh of New Delhi, were arrested from Lohian in Jalandhar.
Cash amounting to ₹6.50 lakh was recovered from their possession. Police have also recovered the slingshot which was used in the crime.
The accused stole the cash on December 29 from one Gurpreet, who worked for a Chandigarh-based scrap dealer. He complained to the police that after collecting cash from the dealers in the city, he had parked his car close to an eatery on the Samrala Chowk.
After he came back after over an hour, he saw that the car's window panes were broken and thieves had fled with the cash.
(Hindustan Times)
Latest Headlines in Sri Lanka