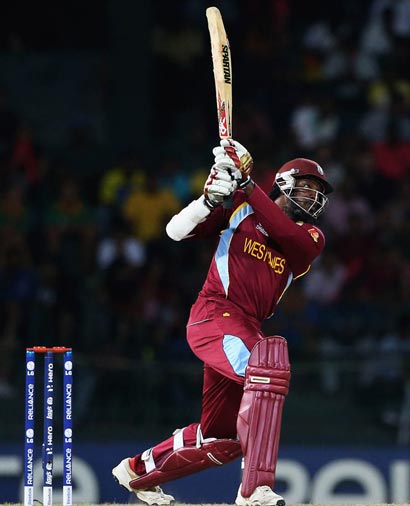 West Indies 205 for 4 (Gayle 75*, Pollard 38) beat Australia 131 (Bailey 63, Rampaul 3-16) by 74 runs
So lopsided was West Indies' obliteration of Australia in the second semi-final of the World Twenty20, the victors had near enough to 13 overs to bask in their looming progress to the final against Sri Lanka.
Matthew Wade's departure in the eighth over of Australia's reply to 205 for 4 left George Bailey's team at a forlorn 43 for 6, their campaign collapsing in a few fevered minutes. Bailey was left to offer his team's last gesture of defiance, a breathless 63 from 29 balls, but it served only to narrow the margin.
That they were chasing such a tall tally was down to Chris Gayle and Kieron Pollard. Gayle was starved of the strike early and later battled an apparent muscle strain, but in between produced an innings of controlled aggression that helped foster a trio of partnerships with Pollard, Marlon Samuels and Dwayne Bravo. Pollard clumped three of four sixes to be brutalised from Xavier Doherty's final over of the innings, a sequence that broke Australian spirits.
This much was clear in the early overs of the chase, the only blow landed by any batsman other than Bailey were the verbal ones delivered by David Warner before the innings had even begun. Australia entered the tournament resolved to fight with Test match zeal for the T20 trophy, but they have ultimately exited the event at an earlier stage than Michael Clarke's team had done at the 2010 tournament in the Caribbean.
Darren Sammy's team have some concerns over Gayle's fitness, and will be a little perturbed to have lost focus momentarily during Bailey's rearguard, but will otherwise enter the final with the confidence earned from a thumping result. West Indies' bowlers showed plenty of wit and variation on a dry surface, Ravi Rampaul catching the eye by using the short ball to make Australia's belatedly included David Hussey look nobody's idea of a saviour.
Warner and Shane Watson – until a few days ago the prohibitive favourite to be the Player of the Tournament – were both winkled out by the flat leg spin of Samuel Badree. Warner's dismissal required video evidence to confirm that the stumps had been flicked after the batsman missed a cut shot, but there was no room for doubt about Watson's exit, losing his leg stump as he tried to pull a skidder. What followed would confirm the suspicion, maintained all tournament, that Australia's batting fell away beneath them.
Michael Hussey had performed a miracle to get Australia through their semi-final against Pakistan in 2010, but this time skied Samuels having made just 18. Cameron White glanced Rampaul into the gloves of Denesh Ramdin, and David Hussey's two deliveries in the tournament provided a reminder that his technique against the short ball is some way short of international standard, irrespective of a handsome record in all domestic formats.
Bailey's subsequent counter-attack seemed driven by frustration as much as anything, and may serve at least to shore up his place as a batsman in Australia's limited-overs plans for the future. But the final margin will stick uncomfortably in the gullet of Bailey and his entire squad, as their tournament ended with a disheartening whimper.
Such a scenario had seemed remote when West Indies made a sedate start on a fair surface. Gayle began carefully, wary of the new ball swing on offer for Mitchell Starc, and watched from the other end as Johnson Charles heaved without foot movement and edged behind.
The non-striker's end was the vantage point from which Gayle watched an inordinate amount of deliveries, as Australia's bowlers and fielders did their best to keep him away from the batting crease. His brief encounters with Doherty were satisfying enough, but Brad Hogg was a little more successful in keeping the runs down with his indecipherable googlies.
By the time 10 overs had elapsed Gayle had faced only 18 balls, while Samuels and Dwayne Bravo, chosen ahead of his brother Darren, took a greater share. Samuels managed a quartet of clean blows before being outsmarted by Pat Cummins and bowled by a slower ball. Bravo soaked up plenty of dot balls but summoned a six whenever he was becalmed.
Australian sloppiness also helped West Indies keep momentum. Wade missed a full toss to allow four byes, Starc swung one delivery down the legside for five wides, and both Hussey brothers allowed bouncing shots to burst through their hands on the boundary.
The innings still required a supercharge, and it arrived in the 15th over, delivered by Hussey. Gayle sent one delivery into the stratosphere, and pinched another two boundaries for the over to be worth 19. In the next, Bravo crunched a steepling six but perished to a flatter hit next ball, the partnership ending at 83 from 51 balls.
Pollard offered sound support in the closing overs as Gayle finally enjoyed a greater share of the strike, though he was by this time clearly hampered by an apparent abdominal strain. It mattered little in the final over, however, as Gayle slammed a full toss for six first ball then left Pollard to collar three more. Pollard's dismissal from the final ball of the innings was scant consolation for Doherty, and Bailey will wonder at length whether he might have handed the ball to someone else.
ESPN CricInfo