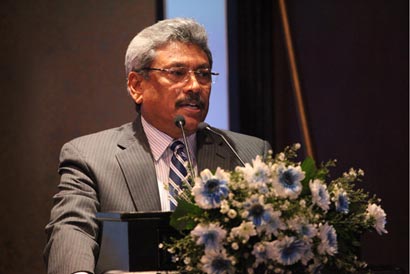 It gives me great pleasure to address you at the inauguration of the 6th Annual Sessions of the Institute of Environmental Professionals, Sri Lanka. I am aware that this institute brings together a number of professionals who have qualified in diverse fields but who now practice in the field of Environment. The Institute's focus on environmental advocacy is a particularly important one it today's context, since Sri Lanka is presently on a very rapid development drive. It is necessary to ensure that the on-going development efforts are both balanced and sustainable in the long term. Economic development should go hand in hand with social welfare and environmental conservation. The Institute has a role to play in enhancing the capability of Environmental Professionals to professionally assess and make insightful recommendations in this regard.
After having suffered thirty years of war, Sri Lanka today is reaping the full rewards of being a nation at peace. Tourist arrivals are on the rise, and the country has been chosen to host several significant international events. These include the 58th annual Commonwealth Parliamentary Association Conference that was held last month, the on-going Twenty20 Cricket World Cup, and the Commonwealth Heads of Government Meeting scheduled for 2013. In addition, there are a large number of regionally and internationally significant groups that are interested in making large investments in Sri Lanka. The Shangri La hotel chain, Sheraton Hotels, the Krrish Group, Indo-Ocean Developers and various others have already committed to large investments to build high-end hotels, residential spaces, office buildings and commercial facilities in and around Colombo. All these facts reflect the confidence that the international community has in the stability and peace that Sri Lanka presently enjoys, as well as their optimism about the country's future prospects.
Sri Lankan companies and investors are equally committed to promoting new ventures and creating further growth. There are several existing advantages apart from the platform of peace and stability that they can exploit. The potential to harness the country's highly educated work force in fields such as Information Technology is a case in point. There are a number of Sri Lankan companies that have already made a mark internationally by developing highly acclaimed software products. The software engineers and IT professionals who developed these products were educated and trained in this country, and with that background, this is a sector that can go very far. The same can be said for fields such as Medicine, Accountancy, Engineering, and various other sectors in which Sri Lanka produces large numbers of committed and talented professionals every year. However, we must also understand that a large number of such professionals left Sri Lanka during the last few decades because of the war and the lack of economic development. The potential that the country has to grow would be even greater if such qualified, talented and experienced professionals can be persuaded to return.
While fostering higher economic growth is critical in this context, it is important to recognise that there are a number of other areas in which significant improvements are being made. Urban development is one of these key areas. If the standards of the cities can be improved, and a better working environment as well as better facilities for families to spend their leisure time can be provided, Sri Lanka will be able to attract many more tourists, draw in even more foreign and local investment, and invite more expatriate families to return to the country. It is with all of this in mind that the Government has taken a great deal of effort to improve the standards of Colombo, its suburbs, and other key cities around the country.
The overall quality of Sri Lanka's urban spaces must improve, and more facilities must be introduced to foster a good working environment as well as pleasant and relaxed living standards. We need to develop clean, green, people friendly cities. The environment needs to be preserved so that people can enjoy the beauty of this country's natural greenery and abundant waterways. The many projects undertaken over the last three years by the Ministry of Defence & Urban Development, the Sri Lanka Land Reclamation and Development Corporation, the Urban Development Authority and the various Municipal and Provincial authorities have all been geared to foster the development of such high quality urban spaces in Sri Lanka.
The Metro Colombo Urban Development Project that has been undertaken by the Ministry of Defence and Urban Development is a five-year long undertaking financed through a World Bank loan that addresses a number of issues that have long troubled the city. Primarily, it will address the various flood and drainage issues that Colombo suffers from due to its rapid, organic growth over many decades. The city's drainage infrastructure, including its micro drainage channels, primary and secondary canals and lakes will be improved. The long neglected Beire Lake will be completely rehabilitated. Its gates, tributaries and output channels will be unblocked and improved, and the pollution that has been caused by unauthorised settlements and buildings will be addressed. Once the project is completed, the Beire Lake will be transformed from its present state to a worthy centrepiece for a revitalised city. The various improvements that will be made to the Beddegana Park under this project are also notable. The Green Growth Programme which is being carried out in parallel with the Metro Colombo Urban Development Project and funded through a World Bank grant, will protect the marshy areas in the metro region, enhance its biodiversity parks, reduce greenhouse gas emissions and improve the eco-friendly nature of the city.
The many projects undertaken by the Sri Lanka Land Reclamation and Development Corporation to increase and enhance the waterfronts in many parts of the city and suburbs are particularly notable. The developments near the venue of these sessions, Water's Edge, together with the work carried out at DiyawannaOya, have been extremely popular, and thousands of people use and enjoy the facilities that have been provided on a daily basis. A number of new lakes have been created in the Sri JayawardenepuraKotte area, including Rampalawatta, the low-lying areas of Pelawatta and Thalawathugoda. Apart from these water retention areas, significant improvements have been or are being made to the overall drainage infrastructure. Under the Weras Ganga Basin Storm Water Drainage & Environment Improvement Project, the dredging of the Weras Ganga will be coupled with improvements to the drainage system of the Bolgoda Marsh as well as the development of several canals. By improving the quality of the water retention areas and waterways, the overall beauty and pleasantness of Colombo will be greatly enhanced, and allow the city to once again claim the title of being the Garden City of the East.
In terms of sustainability, one of the more innovative approaches taken by the Urban Development Authority over the past few years has been to transform historic old buildings on the verge of collapse into facilities with a new lease on life. The transformation of the long neglected old Dutch hospital in Colombo Fort into a public open space housing high end shopping and restaurant facilities has been extremely popular, and the demand from the business community for more facilities of that nature has been extremely encouraging. With that in mind, the old Colombo Racecourse buildings, which had initially been scheduled for demolition, are being rehabilitated and will be converted to an upmarket shopping complex whilst the pavilions and grounds are being converted for new activities. Private sector companies have also stepped forward to take over and revitalise historic sites; for example, the Krrish Group intends to preserve and transform the old Transworks Building into a high-end boutique hotel as it develops the Transworks Square into a modern mixed development with hotel, residential, office and commercial facilities.
The concept of urban renewal is an important one that has many implications. In terms of developing the city, the improvements being made to the lives of people in underserved and unauthorised settlements are particularly noteworthy. These settlements are mostly on government lands in various parts of Colombo, with many of them being located on reservations set aside around lakes, canals, roadways and railway tracks. The settlements lack basic facilities and sanitation, their living conditions are bad and hygiene is poor. Their quality of life leaves much to be desired. Under the Resettlement of Underserved Settlements Project being undertaken by the Urban Development Authority, some 70,000 families living in poor conditions in Colombo will be given housing in high rise buildings designed and constructed to a good standard. These buildings will come up in close proximity to the original homes of these families, so that they do not need to find different jobs or send their children to different schools. The construction of 10,000 housing units is presently under way, and plans are in place to expand this number by a further 15,000 during the next year.
The regeneration of urban spaces through Private Public Partnerships in which investors work with landowners to build mixed developments in areas they occupy is another significant step in urban development. The householders will be resettled in quality high-rise apartments in the same neighbourhoods, while new high quality commercial and residential spaces will be created in the lands vacated. A key benefit of both the Resettlement of Under Served Settlements Programme and these Public Private Partnerships is that they will release a lot of prime city land for commercial and other developments, including the creation of more public spaces.
The development of pavements and walk paths along the city streets is another important matter that has received a lot of attention in the recent past. The city needs to be more people friendly, and the large numbers of citizens who use public transport and use the roads to walk need to be accommodated with high quality pavements and facilities. The development of the pavements in the Colombo and Metro Colombo regions has been of great help to pedestrians, and all future road developments will also feature high quality pavements. His Excellency the President himself has ordered the Road Development Authority to build drains and walkways along the roads that they develop, which will make the roadways much safe and more pleasant for pedestrians. It is the duty of all our citizens to use these facilities properly. Unfortunately, I have noted on many occasions that cars park on sidewalks illegally, damaging the pavements and obstructing pedestrians. It is very important that people develop a proper civic consciousness and avoid such selfish behaviour-the cities must be shared and enjoyed by people from all walks of life.
Keeping the city clean is another key criterion in maintaining urban spaces at a high standard. One of the major problems Sri Lanka faced earlier was that trash collection was not carried out properly and that there were piles of garbage building on various city corners. With more attention being paid to the administration of garbage collection contracts and innovative solutions, including the establishment of a separate division within the Police to monitor whether the streets are being properly looked after, this problem has been solved. In a recent newspaper article in Singapore, a visitor to Sri Lanka has praised the fact that there was no litter on the streets, even in the area around the busy central railway station. This is a great compliment to our recent progress. Even the civic consciousness of our people has been improved through public education programmes on the importance of keeping the city clean. This is something to be truly proud of.
The civic consciousness we have about preserving the environment is similarly crucial. People often talk about the importance of retaining greenery and the need to have more trees. Whenever the Government or municipal authorities improve roadways or improve the pavements, a conscious effort is made to plant more trees and improve the greenery. Unfortunately, many of the same people who talk about the need for more greenery are the same ones who put up billboards throughout the city limits. These billboards are eyesores that obscure the greenery of the city and detract from its natural beauty, and this is a problem that needs to be addressed comprehensively. Instructions have been given to the Municipal Authorities to regulate billboards better, and the people who put up billboards should be advised to consider more effective ways of advertising. If billboards do have to be put up, it is better that they use modern methods such as electronic billboards in permitted areas, rather than put up large billboards in various places, thereby ruining the atmosphere of the city. We need the greenery and beauty of our urban spaces to stand out, and the rationalisation of billboards will be essential for this.
Another initiative that will help in this regard is the demolition of walls around public buildings, playgrounds and other public areas. Because of the war, a lot of walls were built up in all parts of the city. These walls kept many of Colombo's best architectural features hidden, and obscured the abundant natural greenery that is a hallmark of the city. With many of these walls having now been removed, the city now has a much more relaxed and open atmosphere. This is particularly important with regard to the quality of life that people should be able to enjoy. People should not have the feeling that they are hemmed in behind walls or that there are living in a concrete jungle. Instead, there should be much more openness, and many more open spaces for them to enjoy.
That is why the creation of more public open spaces has been a key priority amongst the projects that have been initiated recently. Alongside the many developments in the Sri Jayawardenepura area, the development of Independence Square and Nawam Mawatha with proper bicycle tracks and walkways have significantly improved the quality of life within Colombo city. Similar initiatives have been taken in the Gampaha District, and more and more people are using these places to exercise and relax in. People of all ages use these facilities, and it is very encouraging to note that some leading doctors have even commented that the availability of such spaces for the general public will help contain health issues such as diabetes and heart disease.
Although the projects undertaken in the recent past to create more public open spaces have been extremely successful, it is also important that proper mechanisms be established to ensure the maintenance of these spaces and other public facilities in the long term. Unfortunately, there are many examples of public spaces and facilities that have become degraded over time because they are not properly maintained by anybody. This is an area in which the civil society must get more engaged. Service oriented social organisations such as Rotary Clubs and Lions Clubs, as well as interest based associations and Non Governmental Organisations should take an interest in these activities and help the relevant authorities maintain such facilities and public open spaces. This will ensure that they remain in proper condition for the benefit of the people in the long term.
By creating and maintaining greener, cleaner cities with more public open spaces for people to enjoy, and by improving the infrastructure available within the urban spaces, I have every confidence that Sri Lanka will be to make full use of its development potential and become one of the fastest growing economies in the world. I hope that organisations such as the Institute of Environmental Professionals will be able to contribute positively to these efforts by providing much needed input to the on-going public discourse. The Government needs the civil society to step forward with plans and ideas for improvements that can be made as the country goes forward, and it will be appreciated if organisations of this nature can contribute constructively. I hope that meaningful discussions will be held at these Annual Sessions in this regard, and I wish all the participants an enjoyable and productive several days.
Thank you.