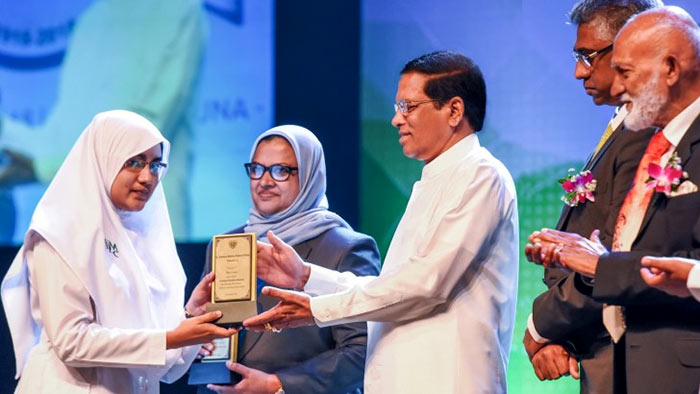 President Maithripala Sirisena says that the government fulfills the responsibilities to a maximum level to protect the younger generation from the negative side of modern technology.
The President made these remarks addressing the 100th Anniversary Celebration of the Fathima Muslim Ladies College held at the Nelum Pokuna Theatre, yesterday (28).
President Sirisena recalled the action taken by the Government to temporarily restrict the accessing of social media sites due to the recent incident in Kandy and said that it is not a violation of media freedom or an infringement of fundamental rights of the people, but it was an important decision which was essential at that time.
The President said that through this step we were able to prevent a major damage that could have happened to the country, and he further added that the international organizations were also lauded the government for taking that step.
President Sirisena pointed out that while safeguarding the children of this country from the challenging situations prevailing in Sri Lanka, it is also the responsibility of the parents, teachers and the government to provide them enough safety, security and the knowledge through education and make them aware of the dangers of abuse of technology.
Parents should focus more on the safety of children and educate them properly in order to avoid the tragic circumstances that the children have to face from parents when exam results are out. The government is expecting to establish a new programme in the future to prepare parents as well as teachers regarding examinations.
President presented awards to the students who showed excellence with outstanding performance in college.
Minister Faizer Mustapha, State Minister A.H.M. Fowzie, Members of Parliament S.M.Marrikkar, Mujibur Rahman, Provincial Minister Ranjith Somawansa, Municipal Councilor, Azath Sali and Principal Siyana Aslan, as well as staff members, parents and past pupils were present at this event.
(President's Media)