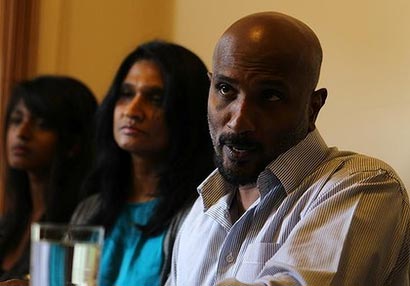 Onlanka News – By Walter Jayawardhana
Premakumar Gunaratnam a leader of the JVP splinter group, Frontline Socialist Party who was banished from Sri Lanka to his second home Sydney received  the widest possible publicity in Australia when he held a press conference there
In the press conference he has  accused the Colombo government of widespread human rights violations and declared he  would have been dead if not for the intervention of the Australian High Commissioner in Colombo and pressure brought on the government by the media.
The following is a report published in the Age group in Australia generating extremely bad publicity for the country:
Australian claims Sri Lankan agents sexually tortured him
Leesha McKenny, Dylan Welch
'I would have been killed" … Premakumar Gunaratnam with his wife and children in a family photo taken last year. Photo: Kate Geraghty
THE Australian man abducted in Sri Lanka over the weekend has contradicted the claims of the Colombo government, claiming it abducted him, and were it not for Canberra's intervention he would have faced certain death.
Premakumar Gunaratnam, a 42-year-old Sri Lankan left wing politician who moved to Australia in 2006, held a press conference at his house in Sydney's north this afternoon, after leaving Sri Lanka yesterday.
He said that he was handcuffed, blindfolded and physically and sexually tortured during his three day detention.
"I have no doubt that if I didn't have the Australian government's support I would have been killed just like my brother and hundreds of other political activists and journalists have been killed," Mr Gunaratnam said at his Dural home at about 2.30pm.
His claims will put pressure on the Sri Lankan government, who at first said they were unaware of Mr Gunaratnam's presence in their country, and once he was located stated categorically that they had played no role in his disappearance.
"The Sri Lankan authorities never arrested that person," the Sri Lankan High Commissioner in Canberra, Admiral Thisara Samarasinghe, told Fairfax media on Tuesday.
Disputing that contention, Mr Gunaratnam said: "I can confirm I was abducted by the Sri Lankan government forces, blindfolded and tortured. This includes, I am embarrassed to say, sexual torture."
He called on the international community to acknowledge what he says are ongoing human rights violations in Sri Lanka being commited by the govenrment of Mahinda Rajapaksa.
"If everyone ignores the human rights violations in Sri Lanka then the Rajapaksa regime will continue the dictatorial regime abducting and killing people who speak out," he said.
"The free-thinking world should take a stance against (these) gross human rights violations."
Comment is being sought from the Sri Lankan government.