ANTI-NUCLEAR PROTESTORS IN CHENNAI WELCOME SRI LANKAN PROTESTS ON THE ISSUE
Posted by Editor on April 11, 2012 - 6:07 pm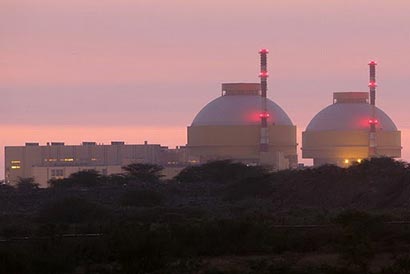 Onlanka News – By Walter Jayawardhana
The Kudnkulam nuclear plant diplomatic tussle between Sri Lanka and India has given a shot in the arm to many anti-nuclear agitators in Chennai who have been protesting against the upcoming plant in the  area reported the Hindu.
"For the anti-nuclear protesters in Kudankulam, who remained firm that the project should be scrapped, Sri Lanka's stand has come as a shot in the arm,said the latest issue of the Hindu.
"People's Movement Against Nuclear Energy (PMANE) convenor S P Udayakumar said there was nothing unusual in Colombo's reaction. "They have legitimate concerns. There have been similar situations elsewhere. The Czech Republic's neighbours had expressed concern over the nuclear power plant in Temelin. Nuclear energy issues can be international concerns." He declined to comment further on Sri Lanka's stand".
However, he said, "Karunanidhi has no moral right to criticize the Sri Lankan government. He himself never talked about the Kudankulam issue for a long time".
PMK deputy general secretary A Viyanarasu, who has been opposing the Kudankulam power project, said Sri Lanka had all rights to express their concern. "There may be a political motive behind their reaction. They may be playing pressure politics against India for voting in favour of the resolution on war crimes. But nuclear energy will be a threat to everyone. And this apprehension cuts across community, religion and territorial borders," he said, added the Hindu.
Latest Headlines in Sri Lanka