Hope Indian PM will attend CHOGM – GL Peiris
Posted by Editor on August 19, 2013 - 9:55 am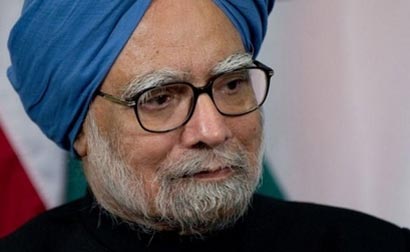 Sri Lanka Sunday said it would "very much like" Prime Minister Manmohan Singh to attend the Commonwealth Heads of Government Meeting (CHOGM) in November in Colombo even as Tamil Nadu parties have urged India not to participate in the event.
Sri Lankan Foreign Minister G.L. Peiris, who arrived here Sunday, said he would meet Manmohan Singh Monday to invite him to the Nov 15-17 event.
"We would very much like him to be present," he said, adding that a CHOGM was being held in Asia after 24 years.
Peiris, who is to also hold discussions with External Affairs Minister Salman Khurshid Monday, said Sri Lanka would "like to have Indian presence at the highest level" for the event.
Addressing a press conference at the Sri Lankan High Commission here, Peiris also said that India's Chief Election Commissioner V.S. Sampath had been invited as observer for the Sep 21 Northern Province elections, which is mainly inhabited by Tamils.
Besides Sampath, Colombo has also invited observers from SAARC countries and from the Commonwealth to oversee the polls, which he said would ensure "total openness" and transparency.
On the issue of the 13th Amendment, a key constitutional provision that promises autonomy to the Tamil minority, Peiris said Sri Lanka has appointed a parliament select committee to go into proposed changes in the country's constitution.
He said the select committee was "not confined to the 13th Amendment but a whole range of constitutional issues engaging the public".
He said it was "a pity" that Tamil opposition groups are not participating in the parliament panel.
In June, India had conveyed dismay at reports suggesting that Colombo planned to dilute certain key provisions of the 13th Amendment on devolution of powers to provinces ahead of the Northern Provincial Council polls.
The Indian prime minister had told a delegation on Sri Lankan Tamil MPs that the proposed changes "raised doubts about the commitments made by the Sri Lankan government to India and the international community, including the United Nations, on a political settlement in Sri Lanka that would go beyond the 13th Amendment".
Tamil Nadu Chief Minister J. Jayalalithaa had last month urged the Indian government to put pressure on Colombo not to axe or dilute the 13th amendment.
On Saturday, DMK chief M. Karunanidhi warned of rail blockades and black flags on houses and commercial establishments across Tamil Nadu if Manmohan Singh did not declare that India would not participate in the CHOGM in Colombo. The DMK had walked out of the United Progressive Alliance (UPA) coalition over the Sri Lankan Tamils issue in March.
The 13th Amendment of the Sri Lankan constitution, carried out with Indian backing in 1987, aims to ensure autonomy to provinces and by extension to the Tamils in the island's north and east. (IANS)
Latest Headlines in Sri Lanka