I DON'T THINK JUSTICE WILL BE SERVED UNLESS THROUGH A COURT OF THE PEOPLE, SAYS ANOMA FONSEKA
Posted by Editor on January 27, 2011 - 9:23 am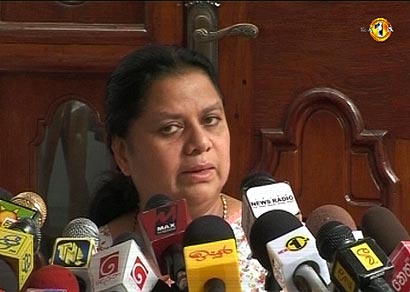 January 26, 2011: Anoma Fonseka, wife of Sarath Fonseka says that she does not think justice would be meted out unless through a court of the people.
Mrs. Fonseka expressed this view at a media briefing convened by the Democratic National Alliance (DNA) today.
"It has been one year since the presidential election. There were many incidents during the course of the year.
"It was my husband General Fonseka who was most affected by them. Not only our people, the people of the entire world realise this. I know that.
"I don't think that justice will be served unless through a court of the people," said Mrs. Fonseka.
Parliamentarian Anura Kumara Dissanayake said that a determination has been delivered on one aspect of the case, but the case regarding his parliamentary seat was still being heard.
"The Supreme Court delivered one of the most fascinating judgments in the history of this country. We filed that case on the basis that a court martial is not included in the courts system and thus it is wrong to remove him from the parliamentary seat.
"But there was another point we included in the case. That was that if the court martial was in fact part of the courts system, and if the actions of the court martial were not fair or just, it was wrong to remove his parliamentary seat.
"Based on that the case is still being examined regarding the removal of his parliamentary seat," said Dissanayake.
DNA parliamentarian Tiran Alles said that the Supreme Court had not determined that the court martial decision was right.
"The determination of the Supreme Court does not say that the decision of the court martial is right. It only says that the court martial is in fact a court. But the Supreme Court has never said that the decision of the court martial was right," said Tiran Alles, Deputy Chairman of the DNA.
Courtesy: News First
Latest Headlines in Sri Lanka