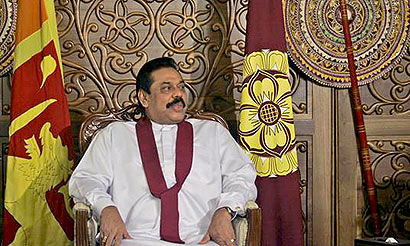 I am pleased to send this message of greetings to the devotees of Islam as they celebrate the festival Eid ul-Fitr today, President Mahinda Rajapaksa stated in a message to mark the Ramazan festival.
The message: "The Muslim community of Sri Lanka join their brothers in faith the world over today, to mark the completion of the important period of fasting and religious fervour, in keeping with the traditions of Islam.
"This is now the time of rejoicing at the end of a holy month of strict religious observances such as fasting, deep attention to spiritual values and the regular practice of prayer and sacrifice, in keeping with the teachings of the Holy Quran and Holy Prophet Muhammed.
"The Muslims of Sri Lanka have carried out these observances in the past month, as they had through the centuries, living in harmony with other ethnic and religious communities of our country.
The peace that prevails in the country today has contributed to facilitating their religious practices, and should be strengthened to help in the progress of society and in the country's development.
"On this occasion, we recall the valued contributions made by the Muslim community for the progress of Sri Lanka in a culture of unity and understanding and look forward to the continuance of such good relations for the future progress of Sri Lanka. " I wish all followers of Islam in Sri Lanka a happy Eid ul-Fitr. Eid Mubarak."
(Government News Portal)