India PM Modi, Lanka President Sirisena inaugurate Jaffna stadium that India renovated
Posted by Editor on June 19, 2016 - 8:10 am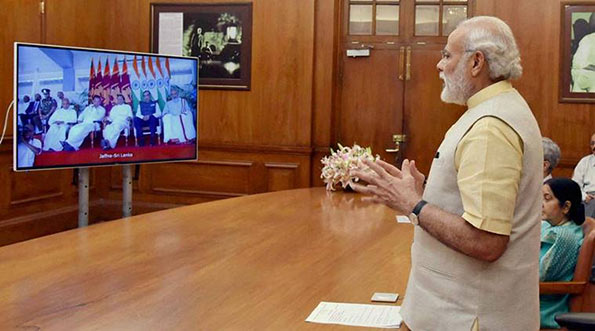 In a significant step towards rebuilding Sri Lanka, India Prime Minister Narendra Modi and Sri Lankan President Maithripala Sirisena Saturday jointly inaugurated the renovated Duraiappah Stadium in Jaffna. While the Sri Lankan president was present at the stadium in Jaffna, Modi joined the event through video-conferencing from New Delhi.
In his remarks, Modi made it clear that India's support to the country will be based on the Lankan government's priorities. "Duraiappah Stadium embodies the spirit of our cooperation. Indeed, India's support for Sri Lanka's development is a promise of our friendship. And, that it will be based on your priorities and your needs is an assurance that you can rely on. This is what makes our enduring ties relevant to our present, as also to our future," Modi said.
Named in the honour of a former mayor of Jaffna, Alfred Thambirajah Duraiappah, the stadium has been renovated by the Indian government at a cost of more than Rs 7.1 crore.
The stadium, which was not in use since 1997, has a seating capacity of 1,850. "The Duraiappah Stadium is not just brick and mortar. It is a symbol of optimism and economic development," Modi said.
The Sri Lankan president said the move is another opportunity to enhance the friendship between the two countries.
(The Indian Express)
Latest Headlines in Sri Lanka