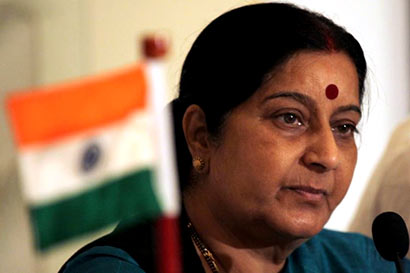 India will strongly take up with Sri Lanka the fishermen issue during delegation-level talks between the two countries, officials said on Saturday.
"India and Sri Lanka have been approaching this as a humanitarian matter which is an emotional issue. This is not an issue that can be addressed immediately with quick-fix solutions but we will work on it as friends and maritime neighbours," ministry of external affairs spokesperson Syed Akbaruddin said.
We hope to resolve this in a peaceful and friendly manner," he said ahead of external affairs minister Sushma Swaraj's talks here with the Lankan leadership.
Swaraj is here on a two-day trip to set the stage for Prime Minister Narendra Modi's visit to the country, the first bilateral tour by an Indian premier in over 25 years.
Swaraj on Friday had called on Sri Lankan President Maithripala Sirisena, who assured her that his government is committed to strengthening ties with India.
Ahead of Modi's visit, Premier Ranil Wickramasinghe has stoked a controversy suggesting that Indian fishermen may be shot if they intruded into Sri Lankan waters.
Alleging that Indian fishermen were taking away the livelihood of Northern Lanka fishermen, he told Tamil Thanthi TV that, "If someone tries to break into my house, I can shoot. If he gets killed…Law allows me to do that."
The remarks by Sri Lankan Prime Minister on the fishermen issue will also be raised by external affairs minister Swaraj during her meeting with her Lankan counterpart Mangala Samaraweera, ministry of external affairs sources said.
The external affairs minister will raise the fishermen issue during her talks with her Lankan counterpart and Prime Minister Wickramasinghe, they said.
There have been several cases of arrest and abduction of Indian fishermen in the last month.
Sri Lankan fishermen have been complaining that since the advent of new government, the number of Indian fishermen breaching the country's waters for illegal fishing has been increasing.
As many as 86 Indian fishermen were arrested and their 10 fishing boats seized by the Sri Lanka navy for allegedly poaching in the country's waters last month.
(PTI / Times of India)