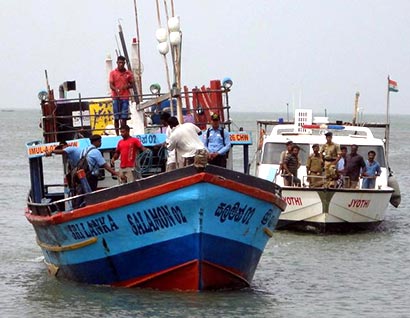 A group of Sri Lankan fishermen detained by Indian security officials for trespassing into their waters have been released, a Fisheries and Aquatic Resources Ministry spokesman said.
According to a Fisheries Ministry spokesman, 28 Sri Lankan fishermen were released by the Tamil Nadu State Officials.
He said that two fishermen were released on June 12, and 26 others were released
yesterday. Two more Sri Lankan fishermen are in Tamil Nadu awaiting release.
The spokesman added that the India released the Sri Lankan fishermen in appreciation of the gesture shown by President Mahinda Rajapaksa to Tamil Nadu fishermen who had trespassed in to Sri Lankan waters to fish.
(Daily News)