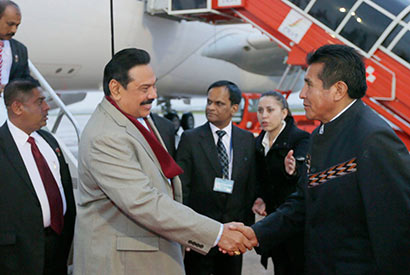 President Mahinda Rajapaksa arrived in Santa Cruz de la Sierra, Bolivia, Friday morning to attend the Summit of Heads of State and Government of the Group of 77 and China (G77+China).
The President was welcomed at the Viru Viru International Airport with military honors and received by the President of the Bolivian Senate Mr. Eugenio Rojas Apaza ["Rojas" pronounced "Rohas"] and Sri Lanka's Ambassador in Cuba Mr. Sarath Dissanayake.
This is the first time a Sri Lankan head of state is visiting the South American country.
The G77+China Summit will take place June 14 and 15 in Santa Cruz de la Sierra under the theme "For a New World Order for Living Well."
The Group of 77, popularly known as G77, is a coalition of developing nations designed to promote its members' collective economic interests and enhance their joint negotiating capacity on all major international economic issues within the United Nations system, and promote South-South cooperation for development.
President Rajapaksa will address the summit on Sunday (June 15). The President also is scheduled to hold bilateral talks with several state leaders from other countries attending the Summit.
Minister of External Affairs Prof. G.L. Peiris, Monitoring MP of the Ministry of External Affairs Mr. Sajin de Vass Gunawardena, Secretary to the President Mr. Lalith Weeratunga and Secretary to the Ministry of External Affairs Mrs. Kshenuka Senewiratne are accompanying the President.
(President Media)