India, Sri Lanka discuss fishermen, resettlement issues
Posted by Editor on January 30, 2014 - 8:35 am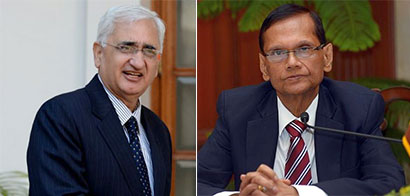 Foreign Ministers of India and Sri Lanka discussed proposals to eliminate maltreatment of fishermen, operationalise a trilateral maritime security pact in which the Maldives is a third partner, and review the pace of Indian-assisted resettlement work in the Tamil-dominated Northern Province, said official sources here on Wednesday.
Officials from both sides were tight-lipped on whether External Affairs Minister Salman Khurshid and his Sri Lankan counterpart G.L. Peiris dwelt on the U.S. threat to call for international investigation into Sri Lanka's human rights record at the upcoming meeting of the U.N. Human Rights Council (UNHRC) in March.
But there were indications from official sources that the issue was deliberated upon. "Issues of common interest that are likely to figure in forthcoming international meetings, of which India and Sri Lanka are both members, were also discussed," said sources in the Ministry of External Affairs.
In a brief statement on his talks with Mr. Peiris, Mr. Khurshid reiterated India's steadfastness to continue persuading Sri Lanka to give more powers to the Tamil-dominated Northern Province, but declined to comment on a resolution passed by its Council for an international probe into human rights abuses. "The Northern Province is a part of Sri Lanka and it is their internal issue," Mr. Khurshid said.
The issue has become complicated and threatens to drag India into the equation after a senior Sri Lankan official in Washington said if there was to be an international probe, the role of the Indian Peace Keeping Force (IPKF) must also be investigated. The Indian armed forces had entered Sri Lanka as part of Operation Pawan in 1987 to disarm all Tamil militant groups but got bogged down in counter-insurgency operations, leading to charges of human rights abuses against them.
Earlier, British Prime Minister David Cameron had called for U.N.-backed investigations if there was no tangible progress by Colombo to address the issue before the March meeting. (The Hindu)
Latest Headlines in Sri Lanka