India-Sri Lanka joint meet in Chennai on Jan. 20
Posted by Editor on January 12, 2014 - 8:59 pm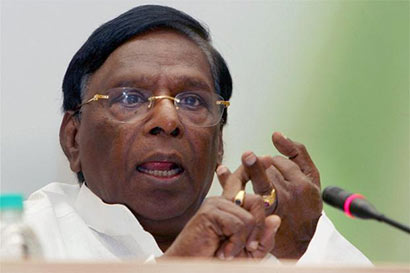 – Union Minister V. Narayanasamy –
Indian and Sri Lankan officials, along with representatives of fishermen, will meet to discuss the issues related to fishermen of Tamil Nadu and Puducherry on January 20 in Chennai, Union Minister V. Narayanasamy said on Sunday.
The Centre has already taken steps to work out solutions to end problems of fishermen of Tamil Nadu and Puducherry facing assault by naval forces and coast guard units of Sri Lanka and also seizure of their fishing vessels, he said.
"We kept making representations to the Centre for a solution and now a joint meeting of officials of the two countries and also of Tamil Nadu government along with fishermen leaders from the State would be held to work out an action plan to end grievances of fishermen," he told reporters in Puducherry.
He said the meeting would discuss and finalise the territorial limits within which the fishermen of Sri Lanka, Tamil Nadu and Puducherry would carry on their fishing operations without facing hardships.
Mr.Narayanasamy said that Tamil Nadu Chief Minister Jayalalithaa had made a representation to the Prime Minister two months ago for a joint dialogue in Tamil Nadu on the fishermen issue and the meeting was also a culmination of the State government's initiatives. He took a dig at Puducherry Chief Minister N.Rangasamy for "neglecting the fishermen of Karaikal region without taking any steps for their release and restoration of their fishing vessels confiscated by the Sri Lankan navy forces on various occasions."
Replying to a question, he said the fishermen of Tamil Nadu and Puducherry now detained in Sri Lankan prisons should be released without delay and "there should be no linking of release of the fishermen with the outcome of the forthcoming meeting in Tamil Nadu."
He said he had made a representation to External Affairs Minister Salman Khurshid a couple of days ago for steps to save fishermen and for uninterrupted fishing operations by Indian fishermen.
He said 27 fishermen of Karaikal were now jailed in Sri Lanka. "It is unfortunate that the Puducherry Chief Minister had not made any move to represent to the Centre the woes of the fishermen. The families of the arrested fishermen should be extended financial assistance."
(Courtesy: The Hindu)
Latest Headlines in Sri Lanka