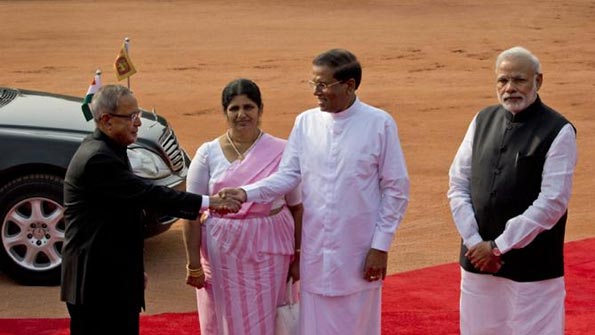 NEW DELHI: India and Sri Lanka will seek to open a new chapter in ties on Monday with a meeting between PM Narendra Modi and Sri Lankan President Maithripala Sirisena who has chosen India for his maiden visit abroad as president. In a likely big takeaway from the visit, India and Sri Lanka will sign a civil nuclear cooperation agreement.
India, TOI learned, has decided to go ahead with civil nuclear cooperation with Sri Lanka following its own "breakthrough understanding" over the same during US President Barack Obama's recent visit. The two countries in the past have held negotiations for a civil nuclear agreement but these lost steam last year under Sirisena's predecessor Mahinda Rajapaksa.
With Rajapaksa gone, both India and the US are keen to wean away Sri Lanka from the influence of China.
While the two leaders will seek to impart fresh momentum to the reconciliation process, the Indian side will also focus on China's role in infrastructure development in the island nation which grew alarmingly under Rajapaksa. In that context, India will seek clarity from Sri Lanka over the status of the China-funded $1.4 billion Colombo port city project which has security implications for New Delhi.
With its location in the Indian Ocean, Sri Lanka is seen by China as having a pivotal role in Beijing's Maritime Silk Road initiative to build port facilities in the region. In fact, it is with China in mind that Modi will undertake a four-nation Indian Ocean tour next month. Starting March 10, Modi will visit Sri Lanka, Maldives, Mauritius and Seychelles.
Prime Minister Ranil Wickramasinghe had said before the elections that the opposition coalition led by Sirisena would cancel the project if it came to power. While the new government did form a committee under Wickramasinghe to review the project because of environmental issues, the cabinet spokesperson was recently quoted as having said that the project had been cleared to avoid "misunderstanding" with China. Wickramasinghe though has continued to maintain that the project is under review.
Launched by President Xi Jinping during his visit to Sri Lanka last year, the project also proposes outright ownership of land for Chinese authorities which is not acceptable to India. Indian authorities have serious doubts about the economic feasibility of the project. Any operational control for the Chinese, they believe, would turn it into a strategic asset for China which is looking for basing facilities in Indian Ocean.
Rajapaksa's decision to allow Chinese submarines to dock at Colombo port only exacerbated India's concerns over China's presence in Sri Lanka. India is likely to point out to Sirisena how the Chinese were favoured by the government under his predecessor despite the commercial and economic viability of their projects being suspect.
Indian officials cite the fact that Traffic generated at Hambantota port and Matara international airport, both built by China, remains well below expectations.
(Times of India / Pix by AP)