Indian Navy Chief Calls on President Rajapaksa
Posted by Editor on November 29, 2013 - 10:28 pm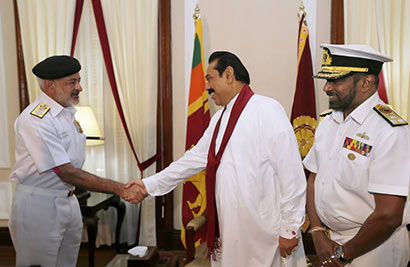 The Chief of the Naval Staff of the Indian Navy Admiral D.K. Joshi called on President Mahinda Rajapaksa at the President's Office this morning. During the meeting, the President, Admiral Joshi and the two delegations discussed several maritime topics of particular significance in the Indian Ocean region.
At the outset, Admiral Joshi informed President Rajapaksa that the Indian Navy will be offering training to Sri Lankan Navy officers to follow the four-year Bachelor of Technology course that is currently offered to Indian Navy officials. He stated that while there is a great demand from many countries to enroll their officers for this course, the priority is being given to Sri Lanka.
Among the other topics discussed was the problem of combating piracy in the Indian Ocean towards which "the Sri Lanka Navy has made a big contribution," Admiral Joshi said. He further stated that although incidents of piracy have seen a decline in recent years, Sri Lanka and India must continue to be vigilant. "All our efforts have to continue," he added.
Both Admiral Joshi and Sri Lankan Navy Commander Vice Admiral Jayanath Colombage also informed the President that the two navies have always cooperated well in dealing with the problems faced by the fishermen of both countries. There has "never been a misunderstanding between the navies," Vice Admiral Colombage said.
Admiral Joshi, who arrived in Sri Lanka earlier this week to attend the Galle Dialogue 2013 Maritime Conference, has had the opportunity to travel around the country to several major maritime locations including Trincomalee, Mannar, the Jaffna Peninsula, Galle and Hambantota.
The High Commissioner of India in Sri Lanka Mr. Y.K. Sinha, the Defense Adviser at the Indian High Commission Captain Sumeet Kapoor and several other representatives from the Indian Navy accompanied Admiral Joshi.
Minister of External Affairs Prof. G.L. Peiris, Secretary to the President Mr. Lalith Weeratunga, Commander of the Sri Lanka Navy Vice Admiral Jayanath Colombage and Officer-in-Attendance Rear Admiral Shemal Fernando were also present at the meeting.
(Courtesy: President Media)
Latest Headlines in Sri Lanka