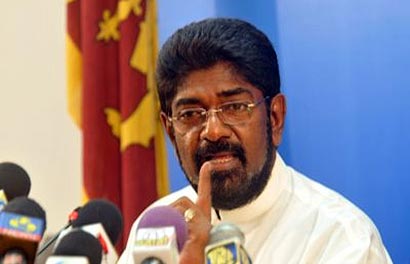 Since President Mahinda Rajapaksa possesses great courage and self confidence more than most other world leaders, international forces are trying to create regime change to install one of their pawns in power spending billions of dollars, said Mass Media and Information Minister Keheliya Rambukwella.
Certain local leaders who tried to demarcate borders and hand over certain parts of the country to forces which espoused the cause of separatism through agreements are shamelessly trying to contest the forthcoming Presidential Elections and the people should teach them a bitter lesson, he said.
Recalling the period of terrorism, Minister Rambukwella said it was President Mahinda Rajapaksa who erased that dark period from the country's history and certain international forces smarting from this victory were trying to oust him through various sinister methods.
The minister was addressing several meetings organised by the people in Harispattuwa to felicitate him recently.
The minister said the President had been elected by the people at two consecutive elections by a large majority of votes. Therefore, he had the right to contest a third time if the people so desired. A candidate beaten twice at the Presidential election and leading a party which had been rejected 28 times by the people had no moral right to contest the Presidential election.
Minister Rambukwella said the people of Kandy had continuously elected him at the 1999 Provincial Election and thereafter four times at the general elections held in 2000, 2001, 2004 and 2010. He was greatly indebted to the people for reposing their faith in him continuously.
Speaking in lighter vein, the minister said certain cartoonists had depicted him as a person washing dirty linen. He was never ashamed to wash dirty linen for the cause of the motherland.
(Daily News)