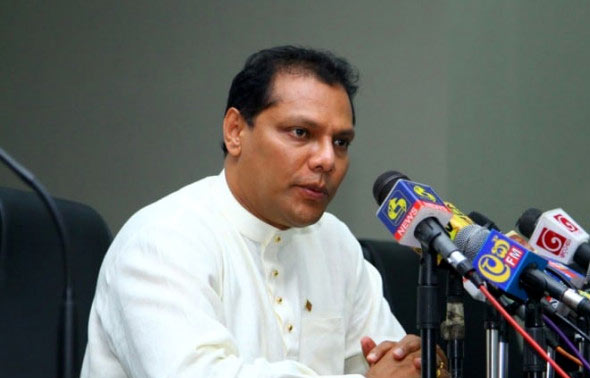 The government said yesterday that the Tamil people had issues which needed to be resolved and it would be addressed within a united country.
Sports Minister Dayasiri Jayasekara, addressing the weekly Cabinet Press Briefing, at the Information Department, said that finding solutions to the problems faced by the Tamils did not mean dismembering the country into pieces or combining the Northern and Eastern Provincial Councils into one, as demanded by some Tamil parties.
There,was no new Constitution contrary to false claims made by a section of the Opposition in a bid to whip up public opinion against the government, Jayasekera noted, adding that the process to obtain a cross section of views was continuing and the final draft agreed upon by all the communities would be presented to Parliament and if approved, it would be placed before the people at a referendum.
Jayasekera said that some Sinhalese extremists who wanted to drive away the Tamil moderates and revive Tamil militancy were engaged in a counter productive exercise by threatening to kill all those who were for devolution.
Emphasing that he was a good Sinhala Buddhist opposed to the division of the country, the Minister said "Let me ask you'll a question. The Tamils fought for autonomy for nearly 30 years. If you now tell them that devolution even within a united Sri Lanka is not possible, then you cannot rule out the possibility of another conflict."
Responding to a question, Jayasekera said that the government would consider the views expressed by the Mahanayakes as well in drafting a new Constitution.
He said that the prelates understood fully well that devolution would not lead to Eelam as explained to them by both President Maithripala Sirisena and Prime Minister Ranil Wickrermesinghe, but they were under pressure from some Sinhala extremists to issue various statements.
(Source: The Island – By Zacki Jabbar)