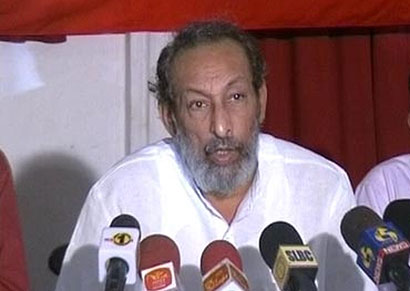 The United National Party (UNP) is actually promoting the agenda of the Tamil National Alliance (TNA) through the proposed new Constitution. That is why Prime Minister Ranil Wickremesinghe wants it passed in a hurry, United People's Freedom Alliance (UPFA) MP Vasudeva Nanayakkara alleged.
Addressing a media briefing yesterday (25), Nanayakkara stressed that everyone knows the connections between Wickremesinghe and the TNA. "They are the ones who conspired against the former government with the support of separatists, Tamil Diaspora and imperialists he alleged.
Therefore, Wickremesinghe now wants to fulfil the promises he gave to the TNA and other factions," he added.
Nanayakkara elaborated, "It is crystal clear that the TNA wants a separate country for them. The proposals they had submitted to The Operations Committee on Constitutional Reforms prove it.
If the UNP does not want to divide the country as it implies, the party should have submitted their proposals to the committee.
But they have not done it. Therefore, we have to think that the UNP bears the opinions of the TNA. The UNP is the only party which has not submitted their proposals."
Furthermore, he said that the PM cannot be trusted. Wickremesinghe, from the beginning of his political career did not follow the rules of Democracy. He always told the people one thing and after that carried out his agendas secretly, Nanayakkara claimed.
"Now he is threatening Buddhist monks who oppose the separation of the country and the media as well. Therefore, we cannot believe his promises on the proposed Constitution," Nanayakkara said.
(Source: Ceylon Today – BY METHMALIE DISSANAYAKE)