James Packer signs up Michael Clarke to promote Crown casino resorts
Posted by Editor on October 21, 2013 - 2:55 pm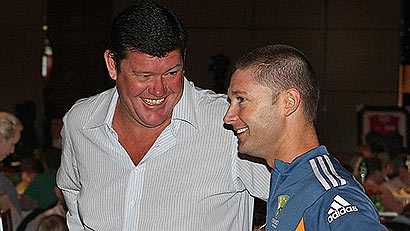 Australiancricket captain Michael Clarke has signed a six-figure deal with billionaire James Packer's Crown Resorts to act as an "education ambassador".
The signing comes as Mr Packer sharpens his campaign to build a $400 million luxury casino resort in Sri Lanka, tapping into the country's love of cricket to build public support.
Clarke appears in a high-class promotional video released today by Crown at www.crownsrilanka.com.
Clarke describes Crown as a "first-class business", which employs more than 14,000 people and has provided training for 4500 staff through special training academies.
"I look forward to providing a helping hand to support and mentor young people in all parts of the country, ensuring Sri Lankans get the training they deserve and an opportunity for a career in hospitality," Clarke said.
Mr Packer, Crown's executive chairman, has had a long association with Australian cricket, with his father, Kerry Packer, instigating the World Series Cricket revolution in the late 1970s.
He has become a close friend of the Australian captain, sometimes inviting him and members of the Australian cricket team onto his yacht to enjoy Sydney Harbour.
Clarke's appointment follows Mr Packer's resigning of Chinese tennis ace Li Na earlier this month to promote casino resorts in Macau.
Crown is in the final stages of winning government approval to build a 450-room integrated resort on a lake in the Sri Lankan capital of Colombo.
Mr Packer believes Sri Lanka is on the verge of becoming a major tourism destination and hopes to appeal to the growing Indian middle-class with Crown's Sri Lankan property.
"A Crown integrated resort would help redefine luxury tourism in Sri Lanka and play a significant role in helping to drive increased international inbound tourism, especially from India and China,'' he said last week.
The Sri Lankan parliament is expected to debate legislation regarding the Crown proposal on Thursday.
(The Daily Telegraph)
Latest Headlines in Sri Lanka