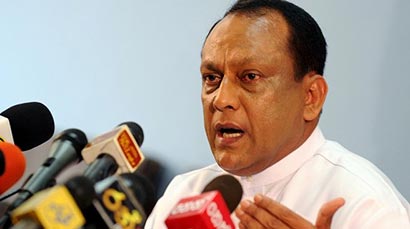 Countering the politically motivated allegations being made by certain groups the government has assured that it will not grant any new licenses to open gambling centres but will regulate the ones that are already in existence.
Investment Promotion Minister Lakshman Yapa Abeywardena said all existing gambling centres maintained improperly in the Colombo city will be relocated in a demarcated enclave. The minister said anyone contravening licensing regulations and establishing casinos will be dealt with and their casinos will be closed down.
The Minister emphasized that the government under President Mahinda Rajapaksa will not issue any new licenses to open gambling centres, and religious leaders have expressed their appreciation regarding confining gambling centres to one special zone.
Minister Mr. Lakshman Yapa vehemently rejected recent media reports which said that the government has issued new licences for casinos. He said that this is a canard spread by the opposition in an attempt to mislead the public and religious dignitaries for petty political gain. The minister said gambling centres and relevant regulations have been in existence within the country for decades under various governments according to the Gambling Act of 1988.
He said that under this Act, four gambling centres have been operating for a long period while paying the relevant taxes within Colombo and two centers have been closed down due to improper practices.
The Minister said that due to the peaceful atmospher and political stability prevailing in the country after the end of the war an investment conducive environment has been created and in this backdrop large scale foreign and local investment has begun for various ventures in Colombo.
One such investment is for a multipurpose resort, a joint venture by John Keells and Crown company belonging to Australian businessman James Packer. For this mixed development project John Keells is investing US$650 million and Crown US$350 million. This is a mixed-development project consisting of star class hotels, convention facilities, restaurants, shopping malls and office space. These companies are planning to join hands with some existing firms already in operation within Sri Lanka while paying taxes to set up an entertainment sports complex. The Minister said that there is no truth in the allegations being made by the Opposition on the above project.
The Minister said the Opposition is in the practice of criticising whatever the government does irrespective of the benefits the country could derive from it. The minister recalled as an example the irresponsible manner the Opposition behaved during the final stages of the humanitarian operation. He said that on that occasion, the Opposition requested the World Bank and the IMF not to provide financial aid to Sri Lanka. Another occasion the Opposition reached to its low level in their behaviour was when they wrote to the HSBC bank requesting the Management not to provide loans to Sri Lanka.
The Minister said that opposition's aim is to somehow shatter investor confidence and dent Sri Lanka's reputation as one of the most investment friendly countries. He ase requested the Opposition to behave in an accountable manner befitting a country's main opposition. He urged the Opposition to put the country's well being before petty political gains. (niz)
(Source: Government News Portal)