Japan's largest warship to visit Sri Lanka
Posted by Editor on March 14, 2017 - 12:33 pm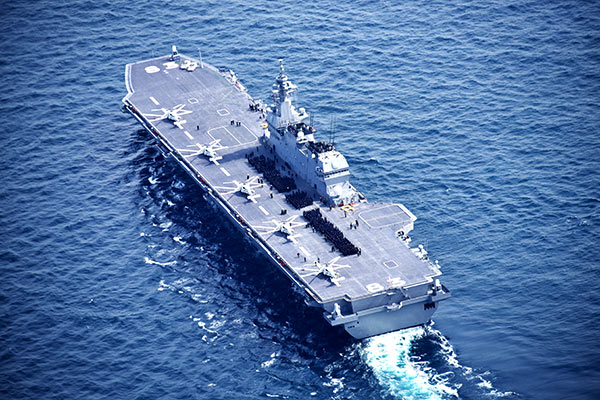 Japan plans to dispatch its largest warship on a three-month tour through the South China Sea beginning in May, three sources said, in its biggest show of naval force in the region since World War Two.
China claims almost all the disputed waters and its growing military presence has fuelled concern in Japan and the West, with the United States holding regular air and naval patrols to ensure freedom of navigation.
The Izumo helicopter carrier, commissioned only two years ago, will make stops in Singapore, Indonesia, the Philippines and Sri Lanka before joining the Malabar joint naval exercise with Indian and US naval vessels in the Indian Ocean in July.
It will return to Japan in August, the sources said.
"The aim is to test the capability of the Izumo by sending it out on an extended mission," said one of the sources who have knowledge of the plan. "It will train with the US Navy in the South China Sea," he added, asking not to be identified because he is not authorized to talk to the media.
A spokesman for Japan's Maritime Self Defence Force declined to comment.
Taiwan, Malaysia, Vietnam, the Philippines and Brunei also claim parts of the sea which has rich fishing grounds, oil and gas deposits and through which around US$5 trillion of global sea-borne trade passes each year."
(Channel News Asia)
Latest Headlines in Sri Lanka