JVP has only social motives – Handunnetti
Posted by Editor on August 8, 2015 - 8:46 am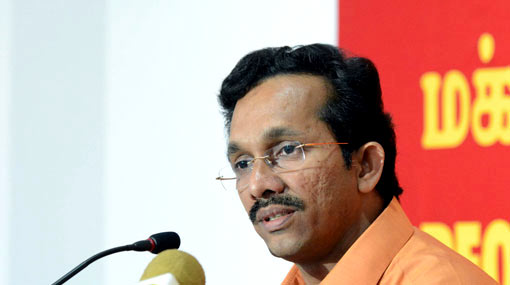 The Janatha Vimukthi Peramuna (JVP) has no personal motives,but, only social motives, said former MP Sunil Handunnetti.
Addressing the media at the JVP office, Battaramulla yesterday, JVP Matara District candidate and former MP Handunnetti said that two main political parties are trying to deceive the public through impressive election promises which would never come true.
He said the UNP and UPFA were now engaged in the same old politics of giving election promises.
He also alleged that the underworld gangs created by the former UPFA government were now being given protection under the Yahapalana (Good Governance) government.
Good Governance doesn't mean the continuation of what the former government did.
Criticizing the UPFA and UNP election manifestos, he said that both manifestos were just fake election promises which were not composed through proper policies, adding that the JVP's election manifesto was based on policies and plans. "The UNP's election manifesto is also another 'Regaining Sri Lanka – a seemingly neo-liberal development plan' proposed by UNP leader Prime Minister Ranil Wickremesinghe in 2002. Hadunnetti also said that various incidents have been reported on election law violations. Even government ministers also violate election laws by using state property and their powers as ministers for election campaigns.
"It is fallacious to say that the number of election law violation incidents is less when compared to the number of incidents that occurred during the previous regime," he said.
(Daily News)
Latest Headlines in Sri Lanka