Keith Noyahr abduction: Sri Lanka ex-president says 'can't remember'
Posted by Editor on August 17, 2018 - 8:14 pm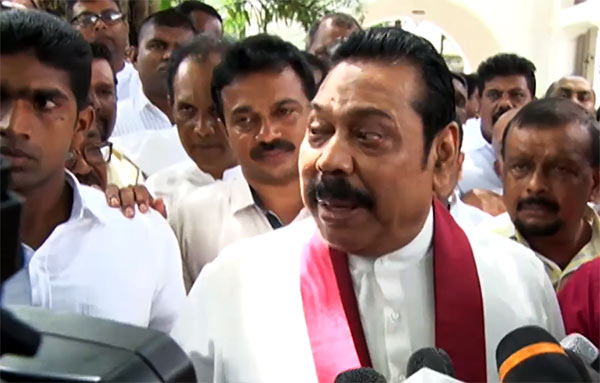 Former president Mahinda Rajapaksa told the CID Friday that he was unable to recall two crucial telephone calls which investigators link him to the abductors of news editor Keith Noyahr 10 years ago.
The former leader was questioned for the first time in connection with the May 2008 abduction and torture of Noyahr, a news editor of the Nation weekly at the time, after a testimony by Speaker Karu Jayasuriya, a then minister in the Rajapaksa regime.
Jayasuriya had said that if not for the intervention of Rajapaksa, Keith would not have been freed by his abductors who had tortured him.  A short while after Jayasuriya sought Rajapaksa's help, Noyahr was freed by his abductors.
Investigators believe a group of military officials behind the abduction of Noyahr was also responsible for the assassination in January 2009 of another newspaper editor, Lasantha Wickrematunga who was fiercely critical of the Rajapakse regime.
Shortly after he was questioned by five CID detectives at his Wijerama Mawatha home, Rajapaksa told reporters he could not remember Jayasuriya's crucial call.
"I don't remember such a call," Rajapakse said. "I asked them (the CID) whether it was wrong to have released him (Keith Noyahr)."
He said he was not directly accused of the abduction but his government was being blamed.
"This questioning is part of mounting pressure on me, to corner me and to hurt me," he said. "There is a political motive behind this. This is a political witch hunt."
But at the same time, he tried make light of the questioning.
"I was told that Karu Jayasuriya'had called me at 11.20 p.m. This shows I don't go to sleep at 10.00 p.m.," he said referring to a previous claim of his successor Maithripala Sirisena that he goes to bed early.
The high profile questioning came as Rajapaksa was set to name his choice of candidate to contest presidential elections due by late 2019.
During Rajapaksa's tenure, 17 journalists and media workers were killed in Sri Lanka.
The former leader and members of his family are under investigation for murder and large-scale financial fraud during his decade as president. All deny any wrongdoing.
Noyahr's abduction, which prompted widespread criticism, came after he published an article criticising a top military commander during the height of the government's war against Tamil rebels.
He was snatched from outside his home near Colombo as he returned from work, and was released — battered and bruised — in the streets of a suburb of Colombo a few hours later.
Prosecutors allege he was taken away in a white van and beaten up at a safe house run by the directorate of military intelligence (DMI). Noyahr has since moved to Australia.
Investigators also believe the DMI was behind the killing of Wickrematunga, the editor of the Sunday Leader, who had accused Rajapaksa's brother Gotabhaya of taking kickbacks for arms purchases, and was due to testify in court when he was killed.
Major General Amal Karunasekera, the DMI's chief at the time, is currently in custody over the case.
(Source: ECONOMYNEXT)
Latest Headlines in Sri Lanka