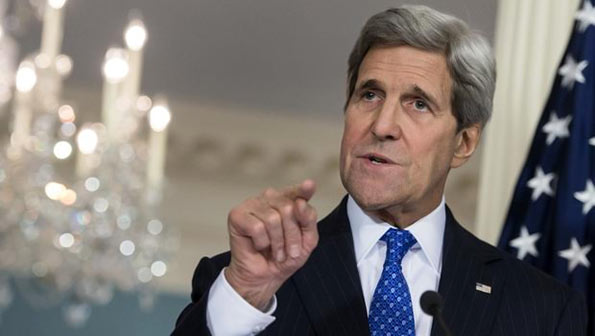 US Secretary of State John Kerry will make historic first official visits to Sri Lanka, Kenya and Djibouti in the coming days.
After years of discord with Colombo due to its poor human rights record, Kerry will travel to the Indian Ocean island on May 2 to meet new leaders elected early this year.
He will be the first secretary of state to visit since Colin Powell in 2004, acting State Department spokeswoman Marie Harf said Monday.
Kerry will meet with a cross-section of Sri Lankans "to hear and express US support for their vision for a more peaceful, stable, and prosperous future for its people."
Kerry was one of the first foreign statesmen to call President Maithripala Sirisena just after his election victory to say the US now hoped to strengthen bilateral ties.
Veteran leader Mahinda Rajapakse had alienated many foreign leaders by refusing to cooperate with a probe into alleged war-time abuses during a crackdown on Tamil Tiger rebels.
From Sri Lanka, Kerry will travel to Nairobi on May 3, a few months before US President Barack Obama is due to visit his late father's home country for the first time since coming to the White House.
Harf said Kerry would "discuss a range of issues including security cooperation — particularly in light of the recent tragic attack at Garissa University College."
Militants from Somalia's Al-Qaeda-linked Shebab rebels attacked the campus in the northeastern town on April 2, singling out non-Muslim students and killing 148 people.
From Kenya, Kerry is to travel to Djibouti, becoming the first ever secretary of state to visit the Red Sea nation in the Horn of Africa.
The country, home to the biggest US anti-terror base in Africa has been thrust into the spotlight in recent weeks amid the upheaval in Yemen.
Hundreds of refugees fleeing the chaos just across a narrow stretch of water, have arrived in Djibouti seeking shelter.
(AFP)