Another committee to probe cricket
Posted by Editor on April 28, 2015 - 8:51 am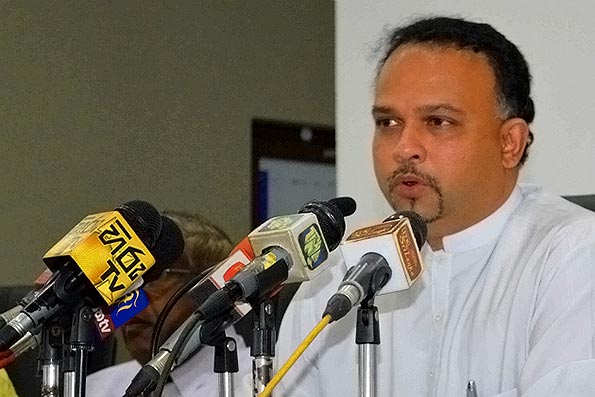 Sports Minister Navin Dissanayake felt confident that Sri Lanka's present issues with International Cricket Council (ICC) could easily be resolved through dialogue and reiterated that ICC must understand and accept the real situation in Sri Lanka.
"The devil is not as much black as some people try to portray. Sri Lanka is a senior member of the ICC and have been a top member for 35 years. We are not an ordinary member. It is our right to be there and I hope they will recognise it," said the minister who added that he was positive that ICC would release the funds amounting to US $ 12 that have been withheld since the minister appointed an interim committee to run the affairs of Sri Lanka Cricket (SLC).
Minister claimed there was no danger of a suspension for SLC from ICC.
"We have already discussed and come to an understanding. I am meeting ICC Chief Executive David Richardson and ICC Chairman Srinivasan to negotiate the matters shortly," said the Minister.
Minister offered this view during a lengthy explanation of his decision to appoint an interim committee instead of going for a democratic election for SLC. He was addressing the journalists as he released the report of the three-member committee he had appointed to investigate corruption in sports and tourism.
The Minister said that he would hand over the report to the Criminal Investigation Department (CID) financial investigation unit to probe the possibility of pursuing legal action over the alleged incidents of corruption mentioned in the report.
The 67-page report however turned out rather to be a farce as far as cricket was concerned after the massive publicity that surrounded allegations against former administrators of the country's most popular sport.
The only mention about cricket was a mere repetition of the much bandied-about old allegations about the question marks hanging over how the CSN Channel had been awarded SLC's local TV rights.
It has anyway been a well-documented allegation after the COPE committee of the parliament investigated and published their findings a few years ago.
The committee had repeated several allegations made by CSN's rival Sri Lanka Rupavahini but had justified themselves over the lack of any convincing facts when they mentioned at the outset that the five-week time frame afforded to them was inadequate to do a comprehensive investigation.
Minister however disclosed that there has been another high-powered investigation going on into the CSN Channel.
"I have a feeling that something big should come up in the next few days from that investigation and there is going to be an arrest of a person," he said.
The report may lack any proven allegations that warrant the establishment of a politically-appointed interim committee for SLC, but the undeterred Minister promised to appoint another committee shortly to investigate the alleged corruption at SLC.
Minister disclosed that ICC has written to him last Thursday asking for an explanation on the circumstances surrounding the appointment of an interim committee.
"I cannot tell you the contents of the communication. But I can tell you that it was a very cordial letter and there was nothing confrontational about it. So I am certain, we can sort this out with ICC. We are going to reply that letter shortly," said the Minister.
Minister also disclosed that the ICC has agreed to release US $300,000 (app. 2.5 percent of the due amount) to be used for player payments.
Minister had promised a "sensational disclosure" on cricket corruption in parliament a few weeks ago, but it never came yesterday while another promise the minister made on February 2 to carry out another corruption investigation on SLC by Sports Ministry Secretary has also not materialised.
However, Minister made one sensational disclosure at the briefing when he claimed that ICC constitution does not categorically state that interim committees cannot be appointed.
"ICC constitution does not say members cannot have interim committees. There is a conflict between Sri Lanka Sports Law and ICC regulations. It can be negotiated. ICC has to understand the situation in member countries," said the Minister who promised that the interim committee would not be there for "a long time". He assured it was only a measure to set things in order at SLC before another election.
Article 2.9(B) of ICC's Articles of Association does not expressly mentions interim committees. It only states: 'Where a government interferes in the administration of cricket by a Member, including but not limited to interference in operational matters, the selection and management of teams, the appointment of coaches or support personnel, the Executive Board shall have the power to suspend or refuse to recognize that Member…'.
Minister also said that the two-year term of the previous SLC committee has elapsed on March 31 and it was a requirement to have a committee in place to ensure the continuation of cricket till the next election is held.
(Daily Mirror)
Latest Headlines in Sri Lanka