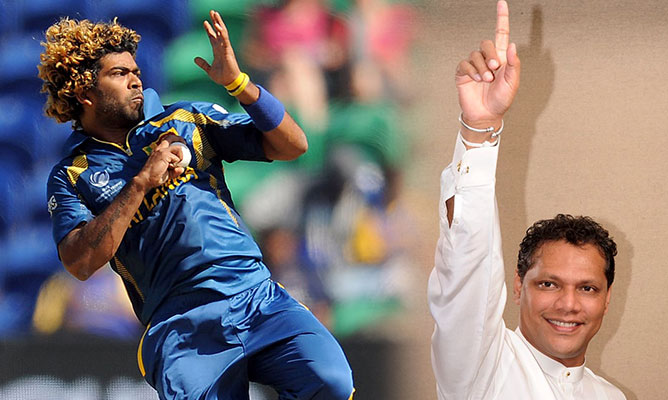 Fast bowler Lasith Malinga made a scathing attack on Sports Minister Dayasiri Jayasekara after the Minister had questioned the fitness of Sri Lankan cricketers. After Sri Lanka's disappointing Champions Trophy campaign last week, Jayasekara addressing the media had said that Sri Lanka's players were the most unfit in the world.
Yesterday Malinga responded making a scathing attack on the Minister in an interview with the Hiru website.
"When parrots are on cage, monkeys outside are making noises. Only the parrots know what's going on inside the cage. Parrots make cage and parrots need cage. When monkeys get in and try to answer (on behalf of the parrots) there could be issues," Malinga said.
"Even the best of fielders can drop catches. Those who are talking about cricket without any knowledge can mutter that catches were dropped because players were not fit, but I would like to tell them that even the best of players can drop catches."
"These armchair critics can say things, but you have to make quick decisions on the field. I don't have time to comment to people who are sitting on easy chairs and making allegations," noted Malinga.
"We have come for five World Cup finals. In order to get cheap popularity people may say things, but we shouldn't worry about it too much. The question I have for them is that what have they done for the sport," Malinga queried.
Malinga went onto add that since the teams picked by the national selectors were approved by the Ministry of Sports, he had no right to question the players having been part of the selection process.
"I would like to mention here that these players perform and the selectors pick them and then the Minister of Sports approves that squad. I suppose even for Champions Trophy the same process was followed. I wonder how the Minister then can question the very team he himself had approved. He will become a joke in the society. He is contradicting himself," Malinga further said.
"We have sacrificed a lot for our cricket. We train for five to six hours daily and in order to get one ball on target, we practice about thousand times."
"I heard that the Sports Minister had told that players are overweight. There is a fitness test today and we can see who is fit and who is not after the test," Malinga further said.
"In Champions Trophy, we beat India. Then all was well and good. No issues with fitness. Suddenly we lose a game and then everything is wrong and we have problems with fitness. That is simply being opportunistic to save someone from attracting the criticism. Before fingers are being pointed towards him, he is trying to divert the criticism elsewhere."
(Source: The Island – By Rex Clementine)