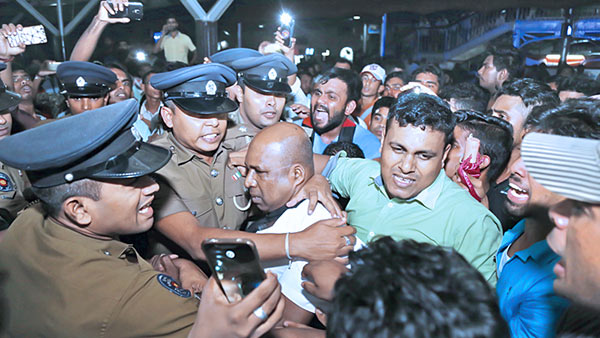 The sudden train strike last evening resulted in a tense situation at the Colombo Fort and Maradana Railway stations. All trains starting from Colombo Fort and Maradana, were cancelled due to trade union action staged by the engine drivers and railway guards yesterday.
The Railway Control Room said that trains operating after 5.30 pm were cancelled due to the strike launched by the Locomotive Operating Engineers' Union.
Thousands of commuters were left stranded which resulted in a tense situation since the train services were cancelled without prior notice.
Sources said the trade union action resulted due to talks between trade unions and higher officials breaking down over the recruitment of engine driver assistants.According to sources, Trade unions had protested a change in the procedure of recruitment of engine driver assistants.
Assistant Transportation Superintendent (Operation) of the Railway Department said they were not given prior notice of a strike in the evening. But the engine drivers and guards have not reported to duty," he said.
Meanwhile, the SLTB deployed additional buses to provide service to commuters. "Chief Superintendent (Operation) SLTB Chandrasiri said that discussions were underway with the Gampaha, Kalutara and Colombo Bus Companies to deploy more buses for the convenience of the commuters.
(Source: Daily News – By Sandasen MARASINGHE)