Love Motherland, says President Rajapaksa at Kaduwela
Posted by Editor on January 10, 2011 - 9:40 am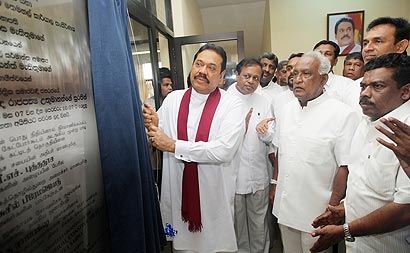 Onlanka News – By Janaka Alahapperuma
(Pix by: Sudath Silva)
President Mahinda Rajapaksa declared open the Robert Gunawardena Memorial Library Complex in Kaduwela recently which was built with grants from the Kaduwela Pradeshiya Sabha on 07 January. The three storied building complex which cost 70 million rupees to Kaduwela PS is equipped with an auditorium and an office complex. A Children Park has also been built.
Addressing the opening ceremony President Rajapaksa said that there is no use of opening libraries unless parents do not direct their children to regularly visit them to gather knowledge. Parents must urge their children to read not only books and journals but newspapers and magazines as well to improve their knowledge. Recollecting his younger life the President said that he started his professional life at the age of 17 by getting a job at the library of the Vidyodaya University.
The President said that there were attempts by certain elements to create a rift between him and the Chief Justice. One report had said that he had scolded the Chief Justice and certain opposition and anti Sri Lankan groups, NGOs and foreign elements and LTTE sympathizers have got together in the campaign to discredit him, Armed Forces and Sri Lanka.
"They wanted to take me to the electric chair on war crimes allegations. They have asked the European Union not to extend the GSP+ Facility and foreign governments and banks not to approve credit facilities to Sri Lanka," President Rajapaksa further added. He also commented saying that the main purpose of this malicious propaganda to convince the international community, especially the Western World that Sri Lanka is a failed state and the rulers are war criminals, uncivilized and violate international conventions.
Speaking further, President Rajapaksa said that there must be a collective responsibility among the members of the government, the opposition and the people of country not to tarnish the good image of Sri Lanka in the international arena. He appealed not to engage in this miserable mudslinging campaign as it would do much harm to the country and its people.
Commenting on the development in the areas that come under the purview of Kaduwela Pradeshiya Sabha, President Rajapaksa said Kaduwela is one of the fastest developing towns in the country.
Members of the Maha Sangha, Ministers Susil Premajayantha, Gamini Lokuge, Wimal Weerawansa, Deputy Minister Dulip Wijesekera, MP Thilanga Sumathipala, Western Province Chief Minister Prasanna Ranatunga, Provincial Councilor Upali Kodikara, former Chairman of Kaduwela Pradeshiya Sabha G. H. Buddhadasa and many political leaders of the area were among the large gathering present.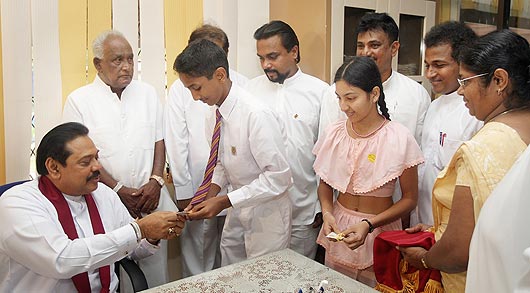 Latest Headlines in Sri Lanka