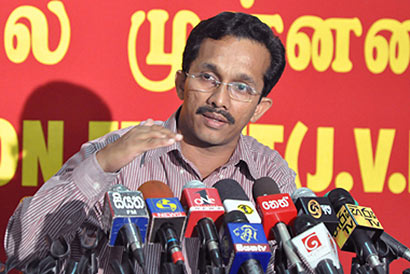 JVP central committee member Sunil Handunnetti said they were not surprised by the decision taken to give nominations to former President Mahinda Rajapaksa under the United People's Freedom Alliance (UPFA).
This decision shows the rejuvenation of the vile politics and greed for power, he said.
He further said that Mahinda Rajapaksa had betrayed the 5.8 million who voted for him while Maithripala Sirisena had betrayed 6.2 million of his voters.
Mr. Handunnetti said that Mr.Sirisena only wanted to secure his power and leadership in the party and Mr. Rajapaksa wanted power to escape from allegations of corruption. "Their unity is only for their private gains but not for the benefit of the people or the country," he added.
(Daily Mirror)