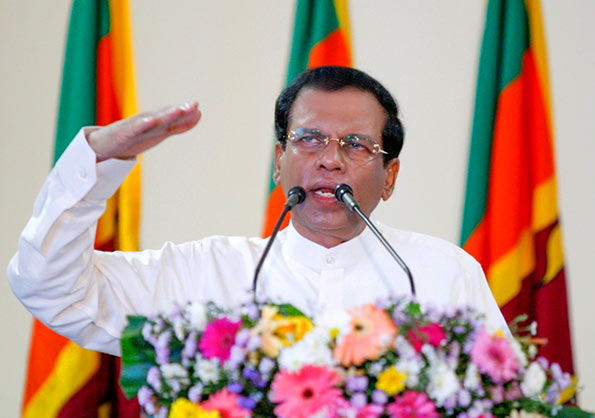 President Maithripala Sirisena's decision to allow his predecessor Mahinda Rajapaksa to contest the August 17 parliamentary elections on the United People's Freedom Alliance ticket has caused ripples within his own 'rainbow' coalition. Increasing tensions is Mr. Sirisena's decision not to take part in the election campaign. UPFA General Secretary Susil Premajayantha and Sri Lanka Freedom Party General Secretary Anura Priyadarshana Yapa are urging him to name Mr. Rajapaksa as campaign chief but no final decision has yet been taken.
Prime Minister Ranil Wickremesinghe who heads the United National Party (UNP) has invited those not supportive of the Rajapaksa entry to contest on the UNP ticket. "We are not getting alarmed and we will go before the people confidently," he told the Sunday Times. Mr. Wickremesinghe was not only in the forefront of Mr. Sirisena's presidential election campaign but also believes that substantial numbers from the UNP vote base led to him becoming President.
Another who was in the forefront, Jathika Hela Urumaya (JHU) General Secretary Patali Champika Ranawaka declared that the current situation created the need for a third front. "We do not want to betray our January 8 victory where we enunciated the policy of good governance," he told the Sunday Times. However, he was critical of both Mr. Rajapaksa and the Wickremesinghe Government, of which he is currently a caretaker Minister.
"We are consulting our party supporters and well-wishers. They do not want us to back the Rajapaksa's political gang. Nor would we support the hidden agendas of Premier Wickremesinghe and his associates who are threatening our country," Ranawaka said. The JHU has already initiated a dialogue with like-minded parties to form an alliance before the end of nominations. "We are not going to compromise on our principles," Mr. Ranawaka said.
After behind-the-scenes dialogue with a three member delegation – Mr. Premjayantha, Mr. Yapa and Opposition Leader Nimal Siripala de Silva – President Sirisena on Friday agreed to the nomination of Mr. Rajapaksa as a candidate. The former President is to choose one of three districts – Gampaha, Ratnapura or Kurunegala. It has also been agreed that a handful of former parliamentarians against whom there have been various allegations of misconduct or involvement in shady activity will not be given nominations.
The main contenders — the UPFA and the UNP — are busy formulating their manifestos.
The first encounter for President Sirisena with the UNP after deciding on Mr. Rajapaksa as a candidate came yesterday. He went for a ceremony connected with the inauguration of construction work on the Matara-Hambantota sector of the southern highway. He was accompanied by Highways Minister Kabir Hashim who is the General Secretary of the UNP.
(Sunday Times)