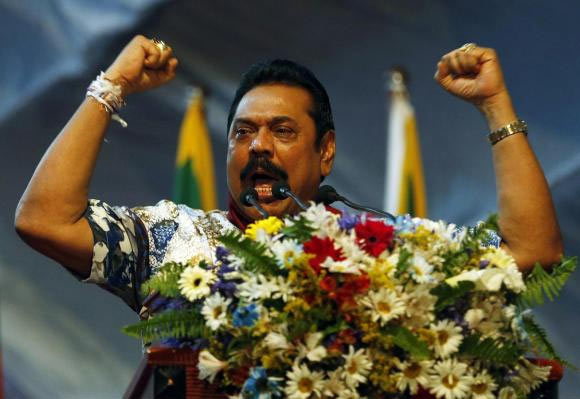 Addressing a gathering of people at Moragahamula Dhammapala Buddhist Centre in Kandy recently, the former President said Prime Minister Wickremesinghe went about saying that the Rajapaksas should be buried.
"They didn't do anything other than taking revenge under their 100-day programme. The government has targeted me, Mahindananda Aluthgamage, Keheliya Rambukwella, Johnston Fernando, Basil, Sajin Vass Gunawardena, Gotabhaya and many others. They have thrown government officials behind bars and then commenced the process of probing the allegations against them. And, this they call good governance. The government has started selling public institutions to private companies claiming that they are incurring losses.
He said the youth today were not aware that the UNP killed tens of thousands of boys and girls and dumped corpses on tyre pyres by the roadside in the late 1980s. "The youth voted for the General Secretary who deserted the SLFP in Jan 08 polls but did not expect the UNP would form a government. They removed Prime Minister D. M. Jayaratne and formed a minority government with 46 members in Parliament. Is that democratic? They are ruling the country today. I do not hate Wickremesinghe and do not call upon people to bury him or his family or anyone else. But, I cannot imagine what they will do to this country if they are permitted to continue in this manner. We cannot comprehend why they want to bury us. Is it because we gave jobs to unemployed graduates? Is it because we gave motorcycles to public sector workers? Is it because we saved our motherland from terrorists?
"Within 30 days of the new government coming to power it committed the biggest fraud in the history of the Central Bank and the country will have to suffer huge losses due to that robbery for another thirty years or so. They said that the Apollo Hospital belonged to Gotabhaya Rajapaksa. Now, that diabolical lie has been exposed. Many of their allegations have been refused in the same manner."
Former President Rajapaksa called upon people not to let the government in power to jeopardise national security. "There are serious threats to national security. The country is faced with the threat of being divided again. Mothers and fathers, you have a duty by your children to prevent this country being divided and terrorism from raising its ugly head again. We call upon you to think of their future and make the right decision."
Among those present were former MPs Keheliya Rambukwella, Mahindananda Aluthgamage, Lohan Ratwatte, Central Provincial Council Member and Teldeniya SLFP Electorate Organiser M.G. Jayaratne, SLFP members of the local government bodies and members of Maha Sangha including Ven Gamgoda Gnanissara Thera, Ven Kumburegama Medhananda Thera and Ven Alikewela Samitha Thera.
(The Island)