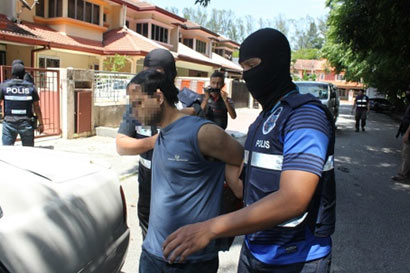 KUALA LUMPUR: Police arrested three foreign men suspected to be members of the Sri Lankan Liberation Tigers of Tamil Eelam (LTTE) terrorist group in Selangor.
The suspects were nabbed at different locations in Klang and Petaling Jaya in a special operation conducted by the Special Branch's Counter-Terrorism Division (CTD) on May 15.
Inspector-General of Police Tan Sri Khalid Abu Bakar in a statement today said the men, who hold UNHCR refugee cards, are suspected of attempting to revive the LTTE activities, especially at international level.
He said the suspects, who came here in 2004, were suspected of using this country as their base to spread the group's propaganda as well as to collect funds for their activities.
"In the operation, police also found and seized LTTE propaganda materials, media equipment as well as foreign currencies from 24 nations equivalent to RM20,176.53.
"The suspects had been using UNHCR cards here to avoid from authorities' action.
"Police will continue to work together with the UNHCR office here to ensure that their identity cards are not exploited by terrorists to hide or conduct any terrorism act, whether against this nation or others," he said.
The suspects are being detained under the Immigration Act to facilitate investigations.
(Source: nst.com.my)