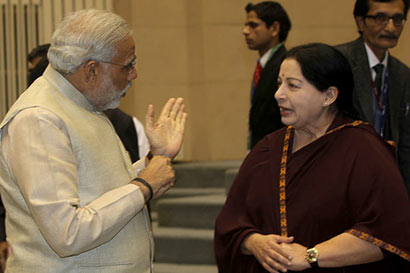 The Indian newspapers, the very same that went overboard in partnership with its Western parties, to portray that the devil-incarnate was likely to lead India is using a lot of print space to vocalize the pressures being exerted by Tamil Nadu upon BJP not to include Sri Lanka's President as State invitee for the inauguration. Tamil Nadu has every right to make demands upon Modi and the BJP had the 76million in Tamil Nadu voted for BJP – but they didn't. 38 of the 39 Lok Sabha seats went to the AIADMK, translated Tamil Nadu chose Jayalalitha over Modi. Having gone against the voting trend visible in all other states of India, Tamil Nadu has the audacity to give orders to the BJP and Modi who he should and should not invite is going a bit too far!. The unanimous rejection of BJP and Modi by the state of Tamil Nadu should provide the best opportunity for Sri Lanka and India to start fresh discussions on a common agenda. Neither does India wish to break away from Tamil Nadu nor does Sri Lanka wish to tie Sri Lanka's North to Tamil Nadu and create the pan-Christian state that is being earmarked. Laying out what Sri Lanka is comfortable with and what India is concerned about with a new team from both sides is what both countries should next prepare for. Tamil Nadu's insular thinking and subsequent repercussions likely to detrimentally affect both nations must at all times be central to any bilateral discussion.
Tamil Nadu's tryst with separatism promoted through fluctuating demands dates back to early 1920s necessitating action that eventually led to the strategic option of passing the headache to Sri Lanka but not before making constitutional amendments to ensure secessionist initiatives were taken care of. The Jain Commission report following the assassination of Rajiv Gandhi sufficiently proves India's guilt while at the same time showcases the possibility of contract involvement in the assassination and with it the rumors of a Maino involvement as well which BJP stalwart Dr. Swamy has been raising over the years inclusive of Maino-LTTE links to smuggling Indian artifacts out of India to be sold in Italy. The nefarious link conjectured does explain the numerous efforts to set the imprisoned criminals free and visits to the Vellore prison.
How trustworthy is Indian intelligence
Be that as it may the West will use every trick in their book to keep Modi in check and Modi must realize that while his new inner team may be loyal the outer team of Indians may not. At this juncture we need to raise concerns about the possibilities of even Indian intelligence not working to the interests of India and its nationalist agenda, for we believe that Modi was voted to ensure the balkanization of India is stopped and the Hindu heritage of India is protected and preserved. The concerns on the loyalty of Indian intelligence is raise in view of the hiccups that India's own military suffered at the hands of its intelligence leading to false tips on LTTE who the Indian intelligence claimed were their 'boys'. Therefore, it is important for the Modi team to ensure that India's new policies are kept in the hands of those they can trust and not those working for the other party – in particular agents of the West. In Sri Lanka, we have compiled our own list of foreign agents yet having the luxury of state privileges. These are like a time-bomb kept waiting to explode and leaders will find out too late as did President Premadasa who smiled at his assassin not knowing he was the suicide bomber who had been living inside the Presidential compound!
The invitation extended to President Rajapakse by the Modi camp as well as to the other SAARC member heads of State is noteworthy and reciprocated. Going an extra mile, President Rajapakse extended a hand to the Chief Minister of Sri Lanka's Northern Provincial Council to join. As to expectation prompt came the decline on the premise that the invitation was extended only to the head of state. Just to get the records straight Wigneswaran is just one of 9 other chief ministers and there is no superiority status of the chief ministers as all are equal though the Northern Provincial Council and the TNA MPs seem to think that just because Jayalalitha won 38 seats and all Tamils endorsed her, Modi and BJP should come behind them. The logic behind this only they can decipher. What Modi cannot forget is that the BJP was clearly rejected in Tamil Nadu, and if the Modi wave did not work in Tamil Nadu it shows how insular Tamil Nadu is and that insular thinking is not good at all for India that is keen to ensure the West does not do a Yugoslavia or a Soviet Union to India and break it into regional councils as is the overall plan being carved within the halls of the UN.
Modi taking the Buddhist mantle
India and Modi need to be far more pragmatic than be kept pinned down to thinking it has to treat neighboring nations as India's servant. India must realize the threats at hand. In deciding to hand over a nation to a foreigner to rule, India has opened its doors to a plethora of catastrophe's waiting to erupt no sooner the green light is given from overseas. In such a scenario India must not attempt to destabilize its neighboring nations and lose their friendship as well. In a recent speech in Gujarat, Narendra Modi spoke about harnessing simple human to human relationships, he spoke about leading according to the noble teachings of Buddha and reminded all that no university could teach anything near the 4 noble truths taught by Buddha. It would be a great pity when the power of Buddhism is being brought to bear by countries like India and China when rightfully Sri Lanka should hold that mantle but takes a ceremonial view of it only instead of speaking on behalf of all Buddhist nations and linking up the Buddhist world as a bloc with strategic peripheral influence. When calls are made to Modi to rule India like a Cakkavatti Dharmashoka, the same calls should not fall on deaf ears back home.
The overtures from Modi and his non-traditional political legacy must be taken positively which is why it is important for both India and Sri Lanka to field new teams of strategic thinkers to carve out a non-Western pro-regional security oriented economic generating package that would not compromise the sovereignty or territorial integrity of either nation. Of course India has every right to take care of its interests while Sri Lanka elects leaders to take care of ours. We cannot expect India to look after our interest nor should our leaders forsake Sri Lanka's interest to look after India. It is in this context Dr. Subramaniam Swamy's clarity on the Central Government and Sri Lanka's role in discussion devoid of noisy parker interferences by state governments was put into proper order and Jayalalitha, Tamil Nadu, Wigneswaran and the TNA should digest this speech clearly.
When TNA says that Modi should extend a personal invitation to Wignesaran and if so he would attend shows exactly how Tamil Nadu and Sri Lanka's Northern Provincial Council and TNA thinks of Modi. Perhaps it is time to tell them who the leader is and it is Narendra Modi. Tamil Nadu or TNA cannot dictate who he should and should not invite.
– by Shenali D Waduge