Malinga's yorkers dismantle Kenya
Posted by Editor on March 1, 2011 - 8:30 pm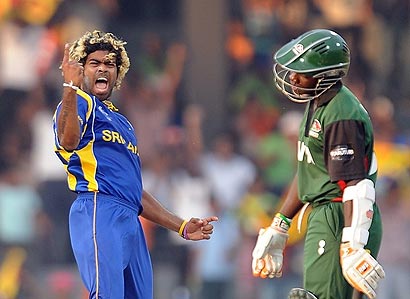 Source: ESPN Cric Info – Pix by Getty Images
Sri Lanka 146 for 1 (Tharanga 67*, Dilshan 44) beat Kenya 142 (C Obuya 52, D Obuya 51, Malinga 6-38) by nine wickets
Lasith Malinga announced his return to full fitness by storming his way to an unprecedented second World Cup hat-trick with an exhibition of yorker-on-demand bowling that proved too much for Kenya's tail at the R Premadasa Stadium in Colombo. The visitors imploded to 142 all out despite dogged half-centuries from the Obuya brothers, who enjoyed plenty of fortune in a determined 94-run stand that kept the varied threats of Sri Lanka's bowling at bay for nearly 30 overs. Sri Lanka's batsmen barely had to break a sweat in the chase, finishing it off in 18 overs.
The Obuyas weren't exactly convincing – testing every edge of their bat, surviving close lbw calls, regularly air-driving outside off and rarely reading the spinner's variations – but hung on obdurately to take Kenya into triple-digits. A solid platform was in place when they had hauled Kenya to 102 for 2, but Malinga's burst demolished the tail as the final eight wickets were blasted out for 40 runs. None of the other Kenyan batsmen made it past single-figures.
The Kenyan collapse was rapid: it took only 22 deliveries for them to go from 127 for 4 to being bowled out. Muttiah Muralitharan started it off by getting the set batsman David Obuya to slog-sweep to midwicket.
Then it was Malinga time. Jimmy Kamande barely found his bearings after being struck by a toe-crusher, and decided to go for a single when the ball was only a couple of metres away from him. Chamara Silva pounced from midwicket and did a passable imitation of Jonty Rhodes from 1992 to crash into the stumps and dismiss Kamande.
Tanmay Mishra was next, becoming the first victim of Malinga's hat-trick after missing a full delivery on leg stump to fall for a 13-ball duck. It was the final ball of the over, and Malinga gave Peter Ongondo the warmest welcome possible to the tournament in the first ball of his next – a yorker that uprooted middle. The staggered dismissals meant many in the crowd weren't aware that Malinga was on a hat-trick. He steamed in and middle stump was dismantled again next ball, the clueless batsman this time was Shem Ngoche.
Attention then shifted to whether Malinga could repeat his outrageous four-in-four from the 2007 World Cup, but he sprayed a wild delivery for five leg-side wides. Elijah Otieno defended the next ball, but that was followed by another unstoppable yorker from Malinga that thud into leg stump to end Kenya's innings. Malinga had taken four in five legal deliveries to finish with 6 for 38.
A tiresomely familiar tale seemed set to play out earlier in the afternoon when Kenya slid to 8 for 2 in the third over. Nuwan Kulasekara and Malinga removed the openers cheaply with their favourite weapons – Kulasekara getting Maurice Ouma with an inducker, and Malinga dislodging Seren Waters with an inswinging yorker that left the batsman on his knees.
The Obuyas ensured there wasn't a repeat of Kenya's house-of-cards performance against New Zealand. Kulasekara gave away only nine runs in a constricting six-over opening spell, but Kenya were more at ease against Angelo Mathews, who was taken for a couple of boundaries.
Sri Lanka brought on the spin of Ajantha Mendis in the 14th over to break the frustrating stand, but though the batsmen weren't sure which way the ball would turn, they survived his bag of tricks with some dour defence. Kumar Sangakkara then turned to Muttiah Muralitharan to get the wickets, but though there were leading edges and outside edges, Murali couldn't break through, with the batsmen negotiating him with a series of sweeps.
It was painfully slow progress from the Obuyas, and after more than two hours of defiance, it was that most deadly of weapons that separated them – a Malinga yorker. Some more of those left Sri Lanka chasing a tiny target in front of a raucous Colombo crowd.
The fans had even more to cheer when Sri Lanka batted, as Tillkaratne Dilshan provided a typically fast start with an array of punches through cover. He picked up a couple of boundaries in three successive overs to power Sri Lanka to 51 in the sixth over. Upul Tharanga, who started sedately, then joined the party with three fours in the next over. Dilshan fell short of a half-century, but Tharanga went on to make 67 with a string of lofted boundaries in the batting Powerplay to hasten the finish, and push Sri Lanka to the top of the table on net run-rate.
Siddarth Ravindran is a sub-editor at ESPNcricinfo
Latest Headlines in Sri Lanka