Mangala owes Rs 18m to SLRC
Posted by Editor on March 2, 2011 - 9:35 am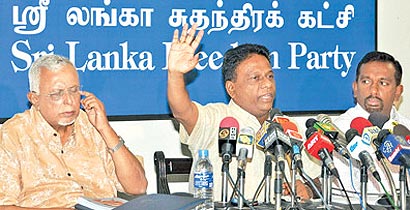 Source: Daily News – By Nadira Gunatilleke
According to the COPE report Rs 18 million is due to the SLRC from UNP MP Mangala Samaraweera while the same report says. SLFP paid the SLRC Rs 166,175, Youth Affairs Minister Dullas Alahapperuma said. Minister Alahapperuma was addressing the weekly SLFP press briefing at the Mahaweli Centre Auditorium yesterday. He said that while the Government is carrying out its election campaign as usual aiming at winning the LG Polls to be held on March 17 the Opposition is carrying out its 'campaign' aimed at the April 12 political 'operation'. A message from President Mahinda Rajapaksa will reach all homes from today (2nd).
District summits will take place till March 14 covering all districts. The Government will make this LG Polls the last one to be conducted under the present system.
Now the Opposition requests the European Commission to monitor LG Polls but it was the UNP which conducted the most corrupt LG Polls in Sri Lankan history in 1991. The Opposition Leader says the late Prime Minister SWRD Bandaranaike's statue to be sold out but in 1977 his supporters crushed the SWRD statue located at Orugodawatta roundabout, dragged it on the road and dumped into a river, the Minister said.
It is President Mahinda Rajapaksa who minimized the gap between the village and town. Today fish from Batticaloa is available at Kurunegala by 9 am and students from Trincomalee attend tuition classes at Kurunegala. Since 1505 Sri Lanka was a dependent country of the West. President Rajapaksa saved the country from this dependency and slavish mentality. Because of this today the country has a few local enemies and many foreign enemies.
Now the Opposition members travel on the A9 road freely using super luxury buses and talk about Jaffna residents' human rights but they do not have the right to do so because they killed and burned Tamil people during the Black July and set fire to the Jaffna library. It was the UNP goons who travelled to Jaffna who voted on behalf of Jaffna residents. They use a term Nidahase Vilapaya these two words do not match. We never say the moaning of democracy, the Minister pointed out.
Once the Government launch 1,000,000 home garden program every family will be able to face any type of food shortage. The Opposition had never addressed people's intelligence or at least their hearts. They always appealed to their hunger and as usual they are doing the same again. Earlier the Opposition Leader was playing the role of Kopi Kade teledrama's Dingi Mahaththaya and now he is playing the role of 'Suwanda'. He is entertaining the public and collecting votes for the Government. The whole world including US President Barak Obama was helpless when natural disasters hit countries. But the Sri Lankan Government will walk forward in the middle of all these hazards, the Minister added.
Latest Headlines in Sri Lanka